Attack on Afghan police post leaves 17 dead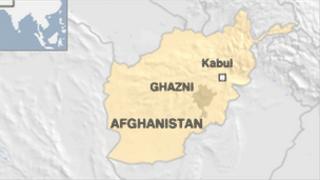 An attack by insurgents on a police post in Afghanistan has left 11 police officers and six others dead.
The Taliban said they carried out the attack, in the central-eastern province of Ghazni.
Two guards from the site have been arrested and are being questioned about why they failed to stop the attack, Governor of Ghazni Musa Khan Akbarzada told the BBC.
Both the Taliban and al-Qaeda are known to operate in Ghazni province.
Last year the district saw a local uprising against the insurgents but since then security in the area has deteriorated, the BBC's Quentin Sommerville reports from Kabul.
Eleven of the dead were police officers, while the rest may have been visiting friends, Mr Akbarzada said.
Local officials said that the attackers had infiltrated the base and poisoned the victims before shooting them.
All were shot while they slept at the base, he said.
He added that the Ghazni chief of police had been sent to the area to investigate the incident.
Elsewhere in Afghanistan on Wednesday, a suicide bomber in Kabul blew himself up after crawling under a bus carrying army personnel, injuring six soldiers and four civilians.
On Sunday another bomber targeting a government building was foiled when police shot him before he detonated his explosives, officials said.
The attacks come a day after the US-led military alliance in the country admitted that there had been no fall in the number of Taliban attacks in 2012, citing an "error" for its previous claim that the number had fallen.
Thursday's incidents also attest to the Taliban's continued ability to be able to launch audacious attacks on Afghan security forces, who are due to take over when Nato combat forces withdraw before the end of 2014.