Six people hurt by bomb blast in Thailand's south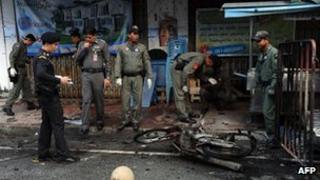 Six people have been injured by a bomb blast in southern Thailand, a day after the government signed a peace talks deal with Muslim rebels.
The device inside a motorcycle went off outside a market in Narathiwat province, police say.
No-one has claimed responsibility for the attacks.
It comes after Thailand signed a deal in Malaysia with the National Revolution Front (BRN), one of many rebel groups operating in the south.
A soldier was among those hurt in the early morning blast that burned nearby vehicles, according to reports.
"We are convinced that this incident was the work of militants wanting to show their power and to discredit the government," Somchai Panomuppakarn, a police official in Narathiwat, told AFP.
However Thai Prime Minister Yingluck Shinawatra told reporters: "These bombings are usual, it was not in retaliation against the government."
She added that the signing of the deal on Monday "does not mean that the violence will stop immediately".
The full details of the peace talks deal have yet to be announced.
Malaysian Prime Minister Najib Rasak has said in a statement that initial talks between the two sides, mediated by a senior Malaysian official, would begin in two weeks.
More than 5,000 people have been killed since the conflict reignited in the Muslim-majority south in 2004.
The rebels, who carry out almost daily gun and bomb attacks against civilians and security forces, are thought to be fighting for greater autonomy. However details of the insurgency remain unclear.