Historic Pak Tea House cafe in Lahore reopens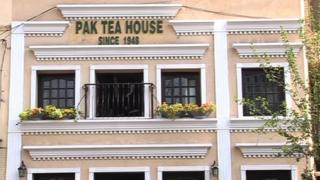 A historic cafe renowned for its artistic and intellectual clientele in the Pakistani city of Lahore has reopened after 13 years.
Literary circles in the city say that they are overwhelmed with joy over the restoration of the Pak Tea House.
The Mall Road cafe was established in 1940 when it was known as India Tea House before it was renamed after the partition of India in 1947.
It was central to the city's artistic and political life for decades.
Hideout of choice
Literary and artistic activity in Lahore has traditionally revolved around cafes and restaurants.
These places became the haunts of intellectuals, writers and artists who spent hours drinking endless cups of tea on subjects which were close to their hearts.
In the colonial era, Lahore was full of restaurants and hotels, most of which lined the famous Mall, offering food, snacks and drinks.
The India Tea House, established originally by two Sikh brothers, was one such favourite watering hole.
Since then, it has become the hideout of choice for all leading writers of Urdu.
In 2000 cafe owner Zahid Hussain closed it down as a non-profitable venture, planning instead to start a new business at the same location.
But intellectuals resisted the move and demanded its restoration.
"When the Pak Tea House was closed we lost an opportunity for social, cultural, political and intellectual discourse," columnist Attaul Haq Qasim said.
"We still have a few iconic writers, so now young people have this place where they can sit with them and learn through their experiences."
Even during repressive times writers expressed themselves freely at the Pak Tea House, which remained a symbol of intellectual resistance.
The government has restored the facade of the building in its original form but the interior has been completely renovated.
Short story writer Neelum Ahmed Bashir is one of those who has welcomed the re-opening.
"Society should be more sensitive towards writers," she says, "because they make this world more human and worth living.
"The disconnect between intellectuals and common people has resulted in frustration and chaos in our country."