Suicide bomber attacks Afghan buzkashi sports fans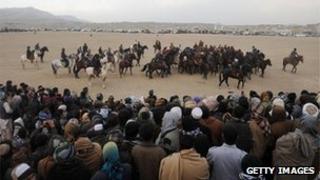 A suicide bomber has killed at least seven people in an attack on spectators at a buzkashi sports event in north-east Afghanistan.
The brother and father of the speaker of the Afghan parliament are said to be among the dead in Imam Sahib district, Kunduz province.
Hundreds of people were watching and the death toll may rise further.
Buzkashi is played on horseback and is similar to polo, but uses the headless carcass of a goat instead of a ball.
The governor of Kunduz province, Mohammad Anwar Jigdalak, said Abdul Qayum Ebrahimi had been killed in the attack along with his father.
He had been the local chief of police and brother to Abdul Raouf Ebrahimi, the speaker in the Afghan House of Representatives.
It is not clear if they had been the targets of the attack, however.