South Korean prime minister visits border island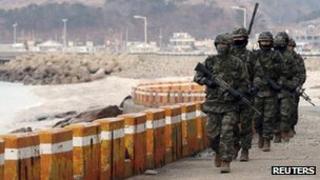 South Korea's prime minister has visited an island identified by the North as a potential military target, amid rising tension in the peninsula.
Prime Minister Chung Hong-won called on residents of Yeonpyeong to remain calm and for the military to be on "high alert" in the face of provocation.
Four South Koreans died on the island when the North shelled it in 2010.
Pyongyang said recently it would scrap the Korean war armistice and end non-aggression pacts with Seoul.
It has also cut off a hotline that connects the two countries in response to new sanctions imposed after its third nuclear test and as a reaction to annual US-South Korea military exercises.
On his visit, Mr Chung said the South Korean military should be on "high alert to respond to any types of North Korean provocations", reports Yonhap news agency.
He also checked evacuation facilities on the island, Yonhap added.
Border threats
The two Koreas remain technically at war because the 1950-53 conflict ended in an armistice, not a treaty.
South Korea has said North Korea cannot unilaterally dissolve the armistice and has called on Pyongyang to tone down its rhetoric.
But North Korean state media have in recent days reported several visits by leader Kim Jong-un to military units near the disputed western maritime border, including near Yeonpyeong island.
The reports of these visits have reportedly included threats by Mr Kim to attack border islands if provoked.
South Korea's western islands are seen as especially vulnerable to attack from the North, as they lie just south of the sea border, which is disputed by Pyongyang, says the BBC's Lucy Williamson in Seoul.
They are located around 10km (6.2 miles) from North Korea at their nearest point.
It was close to another South Korean border island, Baengnyeong, that a South Korean warship sank in 2010, leaving 46 sailors dead.
South Korea said North Korea torpedoed the ship, but Pyongyang denied this.