Three killed in Karachi bomb attack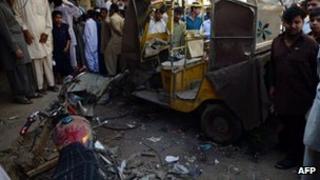 At least three people were killed and five injured after a bomb hit the Landhi neighbourhood of the Pakistani city of Karachi, officials say.
The blast took place near a police station. Media reports say it was also near the office of a cable TV network.
It comes as police arrested 20 people, including suspected members of banned militant groups.
Correspondents say it is a sign police are cracking down after a deadly blast killed dozens earlier this month.
Media reports quoting police say the bomb that went off in the early hours of Friday morning was remotely detonated.
Karachi has witnessed a deadly wave of violence in recent years.
At least 2,000 people were killed in the southern city in 2012, most of them in a string of targeted killings and deadly bombings.