Huge bomb defused in Afghan capital Kabul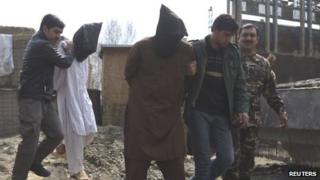 A massive truck bomb containing nearly eight tonnes of explosives has been defused in the Afghan capital Kabul, intelligence officials say.
They say the explosives in the bomb could have caused significant casualties and damages.
Five al-Qaeda-linked Haqqani network fighters were killed in a gun battle after the bomb was found earlier this week, officials say.
The Afghan capital has been regularly targeted by insurgents in recent years.
Last week a suicide bomber attacked the defence ministry in the city and in separate attacks in January the National Directorate of Security (NDS) and the police headquarters were targeted.
In a news conference on Friday, officials said they believed this was the biggest bomb of its kind to be found in Afghanistan.
'Catastrophe' averted
"Based on an investigation by the National Directorate of Security, these explosives would have destroyed everything within 1,500 metres," NDS spokesman Shafiqullah Tahiri said.
"It would have been a catastrophe for people living in the city if it had been detonated.
"NDS forces discovered it due to prior information that the terrorists were organising an attack in a crowded part of Kabul."
Mr Tahiri said that "five suspected plotters" were killed in an exchange of fire on Tuesday. Two other people were arrested.
The BBC's Bilal Sarwary in Kabul says that the bomb - filled with ball bearings and other metals - was defused by the NDS with the help of Nato forces.
Maps and other information about sensitive military locations were found on truck.
Our correspondent says that even though the bomb was defused, the presence of the truck in the strategic east of the city is still a major intelligence failure.
The Haqqani network is widely regarded as the most dangerous foes of the US and Nato in Afghanistan.