Australian head swim coach steps down amid Olympic fall-out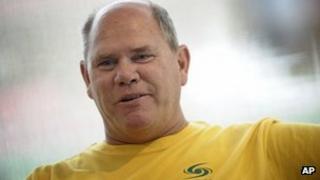 The head coach of Australia's swimming team has stepped down in the wake of reports of leadership problems and a "toxic" culture in the Olympic team.
Leigh Nugent had been under pressure following Australia's swimmers' poor performance at the London 2012 Games.
Six team members also admitted to using a prohibited sedative in a "bonding" session in the run-up to the Games.
An interim coach would be appointed in time for the national championships in April, officials said.
Swimming Australia President Barclay Nettlefold said the move had been initiated by Mr Nugent.
"Leigh actually approached us to discuss his future and where he would best fit into the new structure of the high performance unit," he said in a statement.
"In those discussions it soon became very clear that while he still wanted to remain involved in the sport, he didn't want to continue in the position of head coach," he said.
His resignation was "still a matter of negotiation", the statement said.
In February, a review into Australia's swimming team found that standards and discipline were "too loose", and there was a "dire need" for stronger leadership.
The review was ordered by the sport's governing body after Australia's swimmers saw their worst Olympic performance in two decades.
The findings were followed by an admission from six team members that they used the sleeping medication Stilnox during a "bonding" session before the Games and engaged in disruptive behaviour.
Swimming Australia is also expected to announce its new chief executive and high performance director soon. It says that Mark Anderson from Hockey Australia is its preferred candidate for CEO.