Musharraf 'homecoming' sparks mixed media reaction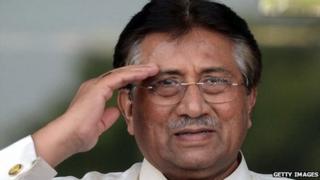 Former Pakistani President Pervez Musharraf sparked mixed emotions throughout his tenure and his "homecoming" has generated a similar response.
Mr Musharraf arrived in Karachi with a promise to "save Pakistan" greeted by cheering supporters who see him as an agent of change.
Rida Naqvi, a student of Karachi University, told The Nation that Mr Musharraf was the country's last hope, because he had improved the education system and given many development programmes to the masses, especially the people of Karachi, during his time in power.
But many in the media were less taken. The former military ruler is largely missing from editorial and opinion pages in most Pakistani newspapers.
Those who choose to comment in the mainstream or social media seem to feel that he will not make any significant impact on elections, scheduled for 11 May.
Little impact
Prominent Pakistani journalist Najam Sethi told The News yesterday he thinks Mr Musharraf "will be fortunate if he wins even one seat".
Pakistani newspapers and TV channels marked Mr Musharraf's arrival with wall-to-wall coverage but the news was soon eclipsed by the election commission's announcement that former judge Mir Hazar Khan Khoso will become the country's caretaker prime minister.
Liberal daily Dawn published a report before his arrival on Human Rights Watch's demand that the former dictator should be held accountable for rights abuses during his tenure.
The paper later highlighted Pakistan Muslim League-N's statement that Mr Musharraf received a "poor reception" upon his arrival.
The Tribune feels "Saudi clout" paved the way for Mr Musharraf's return. The Nation's headline says the former president is "back in the line of fire".
"Musharraf faces several court cases related to his time in office and he remains a highly controversial figure in a country struggling to shake off the legacy of extended periods of military rule. The outgoing government has rolled back much of the constitutional meddling of Musharraf and his predecessors," the Nation's report says.
The paper also noted the low-key response at the airport. "Only hundreds of people greeted him at the airport, beating drums, dancing, waving flags and scattering rose petals. When he left the airport in a giant convoy, flanked by security protection, no-one lined the main highway," it adds.
A report in The News says the former president may not find it easy to compete in elections owing to tough competition.
"Musharraf hopes to regain influence so that his party can win seats in the general election scheduled for May 11, when he will face fierce competition, including from the man he ousted in a military takeover," the paper says.
Pashto-language newspaper Khabaroona's editorial says "Musharraf has to face many cases in the country" and is unlikely to make much impact.
However, pro-military newspaper Pakistan Observer and Urdu daily Jinnah feel Mr Musharraf has raised the right questions and has the ability to change the country's fortunes.
Jinnah says Mr Musharraf was right in saying that "price hikes, corruption and power cuts have trampled the people in the country".
"Mr Irrelevant"
Musharraf has been among the top trending topics in Pakistan since his arrival but many of the comments are not very flattering.
Journalist Taha Siddiqui took a dig at the fact that he was not welcomed by a large crowd. "I think there are between 2K to 3K people now. But as usual 100s of media men covering Mr. Irrelevant."
Another journalist, Javed Malik, feels Mr Musharraf's homecoming was a "lonely show".
Peshawar-based journalist Shabbir Hussain says: "In the line of fire. HRW urges govt to hold Musharraf accountable for rights violations."
"I am not a fan on #Musharraf but I do feel sorry for the poor old man! Politics is just not for him; time to retire oldie," another user named Zara Mazhar says.
BBC Monitoring reports and analyses news from TV, radio, web and print media around the world. For more reports from BBC Monitoring, click here. You can follow BBC Monitoring on Twitter and Facebook.