Australia to shut Afghanistan base before end of 2013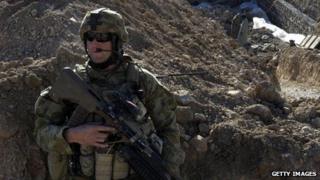 Australia has announced it will close its main base in Afghanistan by the end of the 2013.
Defence Minister Stephen Smith said the closure of the Tarin Kot base in Uruzgan province was in line with plans to bring the majority of Australian troops home by the end of the year.
Responsibility for security in Uruzgan will then be transferred to Afghan forces.
Most international troops are due to leave Afghanistan by the end of 2014.
"The effect of [the] closure will be that Australia will no longer have a permanent presence in Uruzgan province, and the majority of Australian defence force personnel will return," Mr Smith told reporters."
"We expect that by the end of the year we will see at least 1,000 Australian personnel return home," he added.
Around 1,650 Australian military personnel are currently stationed in Afghanistan, including around 150 working on the withdrawal.
Australian troops have been stationed in Tarin Kot since 2005. Around 1,300 Australian troops are currently stationed in Uruzgan, with the remainder in Kandahar and Kabul provinces.
Some of the facilities at the base will be handed over to the Afghan army.
Some Australian troops will remain in Afghanistan in an advisory role, Defence Forces chief Gen David Hurley said at a joint press conference with Mr Smith.
A decision has yet to be taken on whether Australian special forces will remain in Afghanistan, Gen Hurley said.
Since 2001, 39 Australian soldiers have died in the conflict.