Burma communal riots prompt more curfews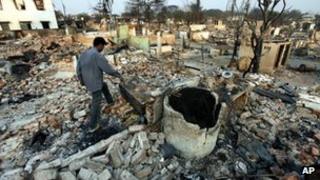 Curfews have been imposed on three more Burmese towns as attacks on Muslim communities spread closer to Rangoon.
Mosques and other Muslim buildings have been attacked by crowds of Buddhists in towns on the road from Rangoon to Pyay, about 200km (125 miles) to the north.
The US has warned its citizens to avoid travel to parts of Burma due to the violence, which began a week ago.
A state of emergency is in force in the central town of Meiktila, where some 40 deaths have been reported.
Soldiers clearing debris from buildings torched by angry mobs retrieved eight more bodies in the town, the New Light of Myanmar newspaper reported on Tuesday.
In Bago region to the north of Rangoon, state television said Muslim religious buildings, shops and houses had been damaged.
Residents outside the capital said they did not feel safe.
"The situation is better than the previous day but we can't sleep well at night," one man, a Buddhist, told Reuters. "People are still afraid of buildings being set on fire because there isn't security everywhere."
A Muslim man said: "We are safe during the day, but we cannot go back to our houses because security personnel are only on the main roads. But there has been no more attacking and destroying houses. There are just thieves who steal from burnt buildings."
In a statement on Monday, the US embassy in Rangoon advised US citizens "to avoid travel to the Mandalay region because of escalating violence in that area".
Reports of other attacks on mosques and houses were reported on Monday in towns near Meiktila - Oh the Kone, Tatkone and Yamenthin.
It was not immediately clear who was behind the violence. Details of any casualties in these areas were also unclear.
Trouble broke out after a reported argument at a gold shop in Meiktila in Mandalay region last Wednesday.
At least 12,000 Muslims are thought to have fled their homes in the unrest since then.
The conflict is the worst since violence in Rakhine state last year, where nearly 200 people were killed and tens of thousands forced from their homes.
The conflict that erupted in Rakhine involved Buddhists and Rohingya Muslims, who are not recognised as Burmese citizens. Scores of Rohingyas have fled what they say is persecution in Burma in recent months.