UN envoy condemns murder of Pakistan school teacher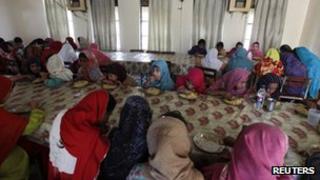 UN Special Envoy for Global Education Gordon Brown has condemned the shooting of a female teacher in Pakistan on Tuesday as a "Malala-style" incident.
Shahnaz Bibi was shot dead on Tuesday by two motorbike riders as she disembarked from a passenger van near the school where she taught in the Khyber tribal region.
The area is about about 4km (2.5 miles) from Peshawar.
The Taliban attempted to kill schoolgirl Malala Yousafzai in October.
The teenage campaigner for girls' education survived being shot in the head by gunmen in Swat - a bullet was later removed from her skull by surgeons. The Taliban said they targeted her for "promoting secularism".
'Wave of threats'
Officials say that Ms Bibi was shot in the Shah Kas area of Khyber as she was travelling with her young son, who was unhurt.
In a statement Mr Brown said that she fought for girls' education in Pakistan and that he had written to President Zardari calling for heightened security measures to protect girls and teachers going to school.
The former British prime minister said that he "feared a wave of threats, intimidation, burnings and bullets" following the killing of the 41-year-old teacher.
He has called for governments, teachers and parents around the world to condemn the attack.
"No one should be shot for wanting to go to school or wanting to teach girls," the statement said.
"Sixty million teachers round the world will want to condemn the assassination of a woman just because she wanted girls to be educated."
The BBC's M Ilyas Khan in Islamabad said that Ms Bibi taught at what are locally called "community" schools - small low-budget donor-funded schools in the tribal areas which are managed by the Fata Secretariat, a division run by the governor of neighbouring Khyber Pakhtunkhwa province.
Most community school teachers have no permanent employee status, and there are long delays in the payment of their salaries.
The main supply line to Nato troops in Afghanistan runs through the area where Ms Bibi was shot, our correspondent says.
The area has mostly been free of militants, but during the last year there have been several incidents of militant violence.
At least two women aid workers have died previously in such attacks.