Pakistani city of Peshawar hit by deadly blast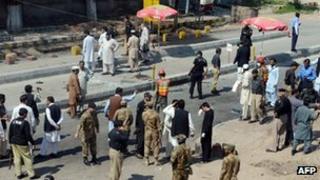 A suicide attack on a convoy carrying a senior police commander in the north-western Pakistani city of Peshawar has killed at least 10 people, police say.
The apparent target, head of the paramilitary Frontier Constabulary (FC) Abdul Majeed Marwat, reportedly escaped without serious injury.
Two women were said to be among the dead, and 27 people were wounded.
The Taliban said they carried out this attack. Militant groups frequently target Peshawar.
"It was a suicide attack, the target was the FC commander," police official Arshad Khan told the AFP news agency.
The suicide bomber approached the convoy as it was waiting at a military checkpoint, witnesses said. A security official told Dawn newspaper the attacker had been on a motorbike.
Another official told the AFP that Abdul Majeed Marwat had escaped with "only scratches" but had been taken to hospital for treatment.
"We have received six dead bodies, including two women," said Jameel Shah, a spokesman for the city's Lady Reading hospital. "Eleven people were also injured."
Four of the wounded were paramilitary personnel, reports say.
Peshawar borders Pakistan's volatile tribal areas, where many of the country's militants are based.
In the past few weeks there has been a surge of violence in Pakistani cities including Peshawar, raising concern about the possibility of further attacks as the country prepares for national elections in May.