Nepal court blocks civil war truth commission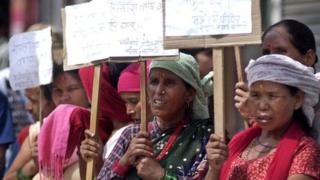 Nepal's Supreme Court has suspended an attempt by the government to set up a Truth and Reconciliation Commission to investigate crimes committed during the country's 10-year civil war.
A judge issued the order after concerns that the new law could allow for amnesties for serious crimes.
More than 17,000 people died and hundreds more disappeared in the war between Maoist rebels and the state.
Nepal's leaders pledged to investigate war crimes in a 2006 peace deal.
But the BBC's Joanna Jolly says that as yet no-one from either side has been prosecuted.
Justice Sushila Karki issued an interim order against the new law after concerns that it could allow for the granting of amnesties to those convicted of serious crimes.
Earlier a group representing victims of the conflict petitioned the Supreme Court, arguing that amnesties went against the principles of transitional justice and international human rights laws.
"The plaintiffs argued that the provisions don't meet the standards of international human rights laws. The court has asked the government to furnish reasons replying within 15 days as to why the ordinance was introduced," said Supreme Court spokesman Hemanta Rawal.
The legislation had also been criticised by the United Nations High Commissioner for Human Rights, Navi Pillay, for denying justice to conflict victims.
"An amnesty for those who committed serious human rights violations will deny the right of thousands of Nepalese to truth and justice. This will not provide a sustainable road to peace," she said in a statement.