Regional media play down dangers of Korean war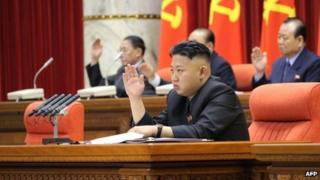 Media commentators in South Korea, China and Russia are apprehensive about tension on the Korean peninsula, but in general do not think it will lead to war.
Opinion is divided as to whether the best policy is to stand firm against North Korean threats or to seek to engage with the government.
Some writers hold the United States partly responsible for the tension, saying its joint military exercises with South Korea had provoked the harsh Northern response.
South Korea's JoongAng Daily
We welcome President Park Geun-hye's decision to call her first national security meeting, albeit a little belatedly... Despite the gravity of the situation, President Park has calmly yet resolutely responded to Pyongyang's provocations, which deserves our appreciation... President Park stressed the importance of not allowing the enemy to engage in provocations by emphasising that they will be met by relentless retaliation. Actions speak louder than words. The government must fully prepare for any emergencies.
South Korea's Choson Ilbo
The US has put on a massive show of force in recent joint exercises with South Korea, but Seoul and Washington are more than willing to talk to North Korea and provide economic aid if it abandons its nuclear ambitions. If the North really wants to develop its economy, the path it must take is clear.
Korea expert Huang Youfu in the China Daily official newspaper
The chances are slim that Pyongyang will launch an attack against the US... North Korea's threats are intended as bargaining chips with the US, and have had little effect. The North has to realize that what it has done cannot be the solution.
Korea expert Zhang Xudong in China Daily
Mutual distrust is the fundamental reason for the deteriorating situation on the Korean peninsula. Every time the US and South Korea adjust policies toward the North, it results in nuclear threats from that country. Neither military confrontation nor sabre-rattling will lead to breakthroughs in resolving the nuclear issue on the Korean peninsula. All parties should stick to diplomacy and dialogue.
China's Global Times
The US has practically given up on persuading Pyongyang to abandon its nuclear programme. China should not allow itself to become the first or greatest victim of a war on the peninsula. As long as China does this, it can still handle the peninsular crisis through a policy of non-intervention. China should strengthen its endurance in tackling the crisis and make a plan to deal with any emergencies, which is where China's initiative comes from.
Hong Kong paper Ta Kung Pao
Only North Korea/US dialogue can calm the situation and avert a war in northeast Asia. Both North Korea and the US are to blame, especially the joint US military drills with South Korea.
Hong Kong's Apple Daily
North Korea's disdain for China is growing by the day. Sober-minded Chinese scholars all know that China is being taken advantage of by North Korea and is the biggest loser in the North Korean nuclear issue.
Article in Russia's Kommersant business daily
Kommersant's informed sources in Moscow admit that, even though Russia is a participant in the six-party talks, it has long since lost any effective levers for influencing Pyongyang. Moscow is concerned that the West may try to use the crisis to boost its military presence in the region, and hopes that Beijing will make North Korea "come to its senses". Kommersant's sources say that the situation on the peninsula is "extremely tense, but there is no reason for extreme alarm at this point".
Russia's Nezavisimaya Gazeta mainstream daily
US experts attribute North Korea's threats to Pyongyang's aspiration to create a decisive public image for the 30-year-old leader of North Korea, Kim Jong-un. But recall that these threats were a response to the Foal Eagle US/South Korean drill... It is as though Washington is playing into the hands of the ambitious North Korean leader... It is time to stop the dangerous actions by both sides.
Senior Russian government adviser Fedor Lukianov in Rossiyskaya Gazeta state-owned daily
Washington understands that with these statements North Korea is mostly trying to deter, rather than frighten... The regime has one goal of truly vital importance: to get everyone to leave it alone... Russia's position remains the same as it has been for a long time: exerting pressure on Pyongyang is pointless. It is possible to find a way out of the dead-end only through the socialisation of North Korea, through its gentle involvement in international integration... Russia has an advantage in that it is not feared by North Korea and is neutral compared to other countries in the region.
Article in Komsomolskaya Pravda pro-government tabloid
The Korean peninsula has become a battlefield. But only of words. A real war is unlikely... Look at the USA. Whenever they plan something, they bring in a strike force into the region... Their presence is not enough for serious business... North Korean leader Kim Jong-un has ordered the North Korean army under no circumstances to open fire first, so as not to give their opponents a reason for revenge. The North Korean army, although large, is equipped with outdated equipment and will clearly not be able to withstand such a blow.
North Korea expert Andrei Lankov in Novyye Izvestia liberal daily
No actual conflict will break out and, in reality, the North Korean authorities are just pursuing their old tactic: they want to secure new international aid in exchange for stopping their belligerent rhetoric.
BBC Monitoring reports and analyses news from TV, radio, web and print media around the world. For more reports from BBC Monitoring, click here. You can follow BBC Monitoring on Twitter and Facebook.