Afghanistan eyes Taliban peace ahead of Nato withdrawal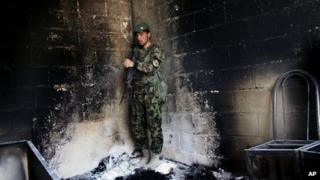 There is exactly one year to go before Afghans are asked to go to the polls to elect a new president, and just months later Nato combat troops will finish their withdrawal from Afghanistan.
Last weekend, Afghan President Hamid Karzai visited Qatar to pave the way for eventual peace talks with the Taliban - talks which many had once hoped would have begun in earnest by now.
The adviser who accompanied him to Qatar was Masoom Stanakzai, head of the joint secretariat of the High Peace Council.
He has told the BBC that he believes the Taliban leadership does want a peace process.
But he warns time is running out, and the opportunity to make peace in Afghanistan must not be lost.
'Serious' about peace
Mr Stanakzai condemned what he called the "madness" of the attack in Farah province on Wednesday, the bloodiest attack here in a year and a half, which led to the deaths of more than 50 people and left more than 90 injured.
Mr Stanakzai says the Taliban is finding it increasingly hard to justify the level of violence being used in Afghanistan.
He himself was injured in 2011, when the man in charge of peace talks - the former Afghan President Burhanuddin Rabbani - was killed by a suicide bomber disguised as a Taliban peace envoy.
Nonetheless, Mr Stanakzai says he believes the Taliban leadership is serious about wanting to come to the table to talk peace.
"When it comes to the majority of the leadership of the Taliban, and those who are associated with them, they really support the peace process to move forward, but I think to come [and say that] publicly and openly it is still a difficult issue, and many people have lost their lives for [doing] that," he told the BBC.
He wouldn't be drawn on a timeline for talks, although he made clear that the Afghan government was confident the process could move forward now the Taliban are in the process of setting up an office in Qatar.
Withdrawal 'an opportunity'
Mr Stanakzai also denied that President Karzai was an obstacle to peace talks, though the Taliban have said in the past that they won't talk in earnest until he steps down and Western forces leave Afghanistan.
The presidential election is due to be held next April, and Nato will end its combat mission before the end of 2014, leading to fears over what will happen in Afghanistan after that.
"People talk about this date as if it will be the end of the world but it is not the end of the world. I think there will be challenges, but I think we will overcome them," Mr Stanakzai said.
"It is an opportunity as well. We have to remove the excuses for those people who would continue violence in Afghanistan.
"We will still need the co-operation of other countries, but we are gradually standing on our own feet and we should not always be waiting for others to help us."
Mr Stanakzai also made clear that Afghanistan's neighbours in the region needed to engage constructively in efforts to make peace, describing Afghanistan's relationship with Pakistan as turbulent.
He said he would like Kabul's relations with the Pakistani government and military to be on a more even keel, and called on the leadership in Islamabad to change policy and dispel suspicions by engaging honestly with its neighbour towards ending violence by insurgents in both Afghanistan and Pakistan.