Afghan roadside bomb 'kills nine' in Wardak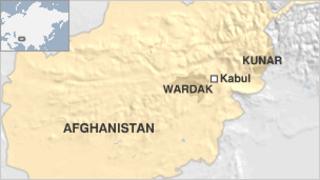 At least nine people have been killed and 22 injured after a roadside bomb hit a bus in the Afghan province of Wardak, officials say.
A woman was among the dead and children were also wounded in the blast, which took place in the Saydabad district.
One report says the bus was a daily service between the capital Kabul and Ghazni province.
Wardak is a volatile region used as staging post for a number of large-scale militant attacks on Kabul.
"I helped evacuate several dead and wounded. There were lots of people in the bus. Only a few survived unhurt, others were killed and wounded," one witness, Mohammad Sarwar, told the AFP news agency by telephone.
Wardak has been the focus of recent tension between Nato and the Afghan government. Last month, US special forces withdrew from one district in Wardak after the Afghan President, Hamid Karzai, accused them of harassing civilians.
In March, Nato and the Afghan authorities reached an agreement on the phased withdrawal of special forces and local police from the province. Afghan security forces will replace them.
This attack comes just one day after 11 children were killed in a Nato air strike in Kunar in eastern Afghanistan, according to officials and witnesses.
Nato confirmed that "fire support" was used after a US civilian adviser died in a militant attack, but said it had no reports of deaths. It says it is investigating the incident.