'Explosives' on Taiwan train lead to mass evacuation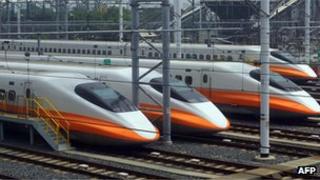 Over 600 passengers have been evacuated from a train in Taiwan after suspected explosives were found on board.
Customers noticed the unattended suitcases in the bathroom of train number 616 at around 09:10 (01:10 GMT).
The Taipei-bound high-speed train was evacuated when it reached Taoyuan station.
The suitcases contained liquid and some triggering devices, but further work was needed to determine if they were explosives, police said.
Some passengers reported smelling gasoline on the train.
Taiwan High Speed Rail Corp. said that it had not received any threats prior to the incident and that this was the first time it had carried out an evacuation due to an unidentified object on one of its trains, AFP news agency reported.
The train company has provided passengers on train number 616 with half-price vouchers, local media report.