Militants kill 13 Afghan pro-government fighters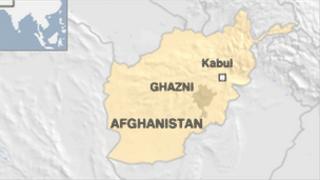 At least 13 Afghan pro-government fighters have been killed in a militant attack on their checkpoint in Ghazni province, officials say.
Details of the attack are sketchy with unconfirmed reports some of the men may have been drugged before the assault.
The Taliban have said they carried out the attack. They also seized weapons and a vehicle.
Al-Qaeda are also thought to operate in Ghazni. In February an attack on a police post there left 17 dead.
A roadside bomb in the province earlier this week killed five government security force men guarding a convoy of trucks in Qarabagh district.
The provincial capital was declared a city of Islamic culture last week, despite concerns that the continuing instability might make it difficult for Afghans and foreigners to visit its sites and monuments.
Reports say that some of the fighters may have been members of the Afghan Local Police, a local militia force formed to provide security in areas where the national police and army are scarce.