Call to resolve fate of 461 Sri Lanka death row inmates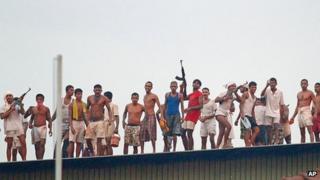 New Sri Lankan prisons chief C Pallegama has said he wants to resolve the status of 461 death row inmates.
Mr Pallegama said he was opposed to capital punishment but acknowledged he was not legally mandated to abolish it.
Sri Lanka has not implemented a death penalty since 1976 and this has put condemned inmates in a state of limbo.
Violence in jails in recent months has left dozens of prisoners dead. Politicians regularly call for death sentences to be implemented.
The opposition described the death of 27 prisoners in the main Colombo jail in November as a massacre by the security forces.
Prisoners' families expressed the same view.
The government has denied that it was a massacre, but has acknowledged that unhappiness among those on death row was a factor in the riot.
"Personally I don't agree with capital punishment," Mr Pallegama told the BBC.
"Some [death row] prisoners have completed 20 years, 24 years, so there is a problem - their unrest, their stress."
Mr Pallegama met these inmates several times and said they had "been given severe punishments" and were "suffering".
They wished either to be hanged or given formal life sentences, he said, adding that he too advocated such a resolution.
With daily stories of shocking violent crime in Sri Lanka, including murder and rape, Mr Pallegama admitted his comments might be controversial.
Although there have been no hangings since 1976 two hangmen were recently recruited but were later reported to have been sacked after absconding.
Capital punishment was introduced during the British colonial era.
People accused of involvement with the Tamil Tigers are not among those on death row.