China director Zhang 'investigated' over one-child rule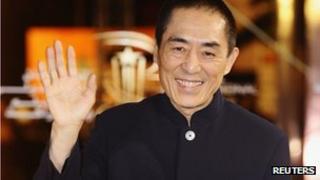 Chinese director Zhang Yimou is under investigation for allegedly violating the country's one-child policy, state-run media say.
The China Daily newspaper said authorities in the eastern city of Wuxi were looking into the claims.
Unconfirmed reports said he fathered seven children with four women.
Mr Zhang, who directed the 2008 Beijing Olympics opening ceremony, could face a fine of 160m yuan ($26m), according to the Communist Party-run People's Daily.
Surging population
"We are trying to confirm the online rumours," AP quoted an unnamed official as saying in Wuxi, where Mr Zhang's marriage is understood to be registered.
The news agency added that Mr Zhang's Los Angeles-based agent had not responded to a request for comment.
China's family planning laws limit most urban couples to a single child, while rural families are allowed to have two children if their first born is a girl.
The policy was introduced more than 30 years ago as a temporary measure to curb a surging population but continues today, despite calls for change.
The story has generated an online debate, reports the BBC's Beijing correspondent Martin Patience, with some internet users seeing it as an example of the rich flouting the country's laws.
Mr Zhang, 61, directed some of China's most successful modern martial arts films, including Hero and House of Flying Daggers.
His 2011 work The Flowers of War, starring Christian Bale, was set during the 1937 Nanjing Massacre.