North Korea aid agencies 'hit by US sanctions'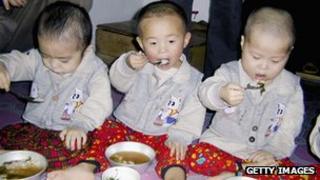 Foreign aid agencies in North Korea say US financial sanctions are severely restricting their operations there.
Six European agencies say foreign banks are no longer transferring money to North Korea's Foreign Trade Bank, which is being targeted by the US Treasury.
The agencies say their projects to support nutrition and agriculture in the country will be affected.
A North Korean envoy has told Chinese officials that his country is ready for dialogue following months of tension.
"North Korea lauds China's enormous efforts to maintain peace and stability on the Korean peninsula and... is willing to accept China's suggestion to have talks with all parties," envoy Choe Ryong-hae was quoted as saying by Chinese state broadcaster CCTV.
But there is no indication when or where talks - which have been in stalemate since 2009 - could take place.
'Cascade effect'
The aid agencies - Save the Children, Concern Worldwide, Handicap International, Welthungerhilfe, PMU-AMI and Triangle Generation Humanitaire - run a range of aid projects in North Korea, supporting nutrition for children and agriculture in a country that suffers from persistent food shortages.
They say their work is being hit hard by a US financial squeeze that was imposed in addition to the more specific sanctions adopted by the UN Security Council.
The agencies have been funding their operations through the Korean Trade Bank, North Korea's main conduit for foreign exchange.
That bank is now being targeted by the US Treasury, which says it supports North Korea's nuclear and missile programmes.
The move has had a cascade effect, says the BBC's Asia Pacific editor Charles Scanlon, with international banks including the Bank of China shunning North Korea for fear of running foul of the US financial system.
The European Union has angered Washington by resisting formal sanctions, citing concern about the aid agencies.
But that has made little difference to the flow of funds, and some of the agencies are now resorting to carrying in cash from China.
But representatives warn they will not be able to sustain their operations for long that way.