Osaka mayor 'sorry' for US brothel remarks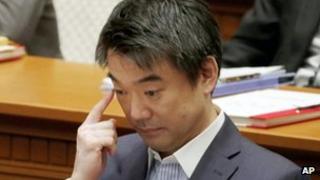 The mayor of the Japanese city of Osaka has apologised for suggesting US soldiers should use legal brothels as a way to curb sexual crimes in Okinawa.
US personnel have been involved in a number of violent crimes in Okinawa over the years, including rapes.
Toru Hashimoto drew international criticism last week when he said that sex slaves ("comfort women") served a necessary role during World War II.
Two former "comfort women" cancelled their meeting with him on Friday.
Mr Hashimoto, a leading figure in the small, nationalist Japan Restoration Party, later apologised for those remarks.
'Inappropriate'
On Saturday he said he apologised to the US military and the American people for saying that US soldiers should visit legal sex businesses on Okinawa to curb their sexual energy.
"The phrase 'sex businesses' was inappropriate," he said in a TV interview on Saturday.
Last year, two US soldiers raped a Japanese woman in Okinawa. In the wake of that case, a curfew was imposed on all US troops in Japan.
There has been a US military presence on Okinawa since the US invaded the island during World War II.
Mr Hashimoto outraged Japan's neighbours when he said on 13 May that the "comfort women" had given Japanese soldiers a chance "to rest".
Some 200,000 women in territories occupied by Japan during WWII are estimated to have been forced to become sex slaves for troops.
Many of the women came from China and South Korea, but also from the Philippines, Indonesia and Taiwan.
The Japanese government, which in 1993 issued a formal apology over the issue, has sought to distance itself from his comments.
The US state department has also criticised his words as "outrageous and offensive".