But will ordinary Burmese benefit from their country's investment boom?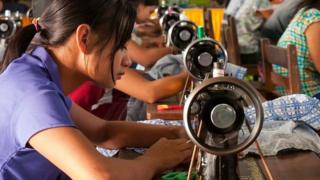 Burma's re-engagement with the global economy is one of the most promising developments in Asia since China opened up 30 years ago.
It has an untapped market of 60 million people in need of just about everything, combined with a wealth of natural resources and a pivotal strategic position between India, China and South-East Asia. No wonder they are calling it the new frontier.
Hardly a week goes by without another significant milestone.
There has been the recent first visit by a Japanese prime minister for 36 years, and last year the first visit by a current US president.
Ford has just announced the first new car dealership in Burma in decades. Coca-Cola will shortly be opening its first bottling plant after an absence of more than half a century. The country has its first bank cash machine, and there has been a visit by Google's boss.
All the world's big brands are lining up to be in Burma, and behind them a host of smaller companies are sending in executives on exploratory visits, hoping to grab lucrative opportunities before they are all taken.
The US has suspended most sanctions, and during the recent visit to Washington by President Thein Sein signed a new trade agreement.
Boost to living standards
The European Union has now lifted sanctions on all goods except arms, and is on the point of reinstating privileged access to EU markets for Burmese companies under the generalised system of preferences (GSP). All should be very rosy.
And yet the people of Burma could be forgiven for wondering when they will feel the benefits. As the poorest in the region of the Association of South-East Asian Nations (Asean), they certainly need a boost to their living standards.
"The problem is that there is a lot of interest but then the actual money, the investment, does not come through," says Cyn-young Park, assistant chief economist at the Asian Development Bank.
"They assess the situation, and then they realise there are so many barriers and constraints, and it doesn't actually lead to the money coming into the country."
Millions of jobs needed
Foreign direct investment did increase fivefold last year, but that was from a low base of just $300m (£199m) in 2011.
Burma's needs are much greater. It needs millions of new jobs for a chronically poor and mainly rural population, and it needs substantial investment in infrastructure.
One problem in Burma (Myanmar) is the lack of legal certainty.
It took many months of debate before a new foreign investment law was passed last year, and even then it took time to get an official translation.
There is still some confusion about what it means.
There have been complaints, for example, over requirements to use a local partner, when in many industries there are no local partners available.
"The law is not perfect yet", says Sett Aung, the Deputy Minister for Planning and Development. "It's a kind of evolution process. Time is a luxury we cannot afford.
"We need to create a favourable investment climate now. We have come up with the concept of special economic zones [SEZs], so that favourable policies on customs, labour, utilities can be ensured inside these zones in a short period."
Export challenges
The government is planning to develop several SEZs, the most promising being the 2,000-hectare (4,950-acre) Thilawa SEZ outside Rangoon (Yangon), funded by a number of big Japanese companies, where construction will start this year.
Another giant project, the SEZ backed by the Thai government in the southern port of Dawei, is stalled now through lack of funding.
The SEZs are essential if big, job-creating investments, such as garment factories, are going to be attracted to Burma because the country's infrastructure is currently too weak to support them.
Unreliable electricity supplies are a serious problem. Around 70% are derived from hydroelectric plants, which generate much less in the dry season.
The need to rely on generators pushes up costs, making low-margin clothing uncompetitive.
The inadequacy of the main port in Rangoon also increases overheads. Relatively few container ships visit and shipping costs are volatile.
One garment factory owner told me it was more economic to drive his products 24 hours over the border into Thailand and to ship from Bangkok than to export from Rangoon.
Sett Aung said the government was working as fast as possible to improve electricity generating capacity by negotiating agreements with foreign investors with the resources to build new power stations.
Japanese and Thai companies have already expressed interest, but it will take years for these projects to be completed.
'Huge consumer market'
It is also proving difficult for smaller investors to overcome the challenges of setting up in this frontier economy.
A representative of the Thai-Myanmar Chamber of Commerce told me that while big Thai corporations such as CP Group, PTT and the telecom companies were planning substantial investments, small and medium-sized Thai firms were put off by the rising cost of land, uncertainty over who owns it, and the lack of clear legal protection in the Burmese courts.
But the lure of Burma's needs, resources and consumers will certainly continue to draw in investors.
"This huge consumer market promises to keep growing in the long term following democratic and economic reforms," says Masaki Takahara, at the Rangoon office of Japan's external trade organisation (Jetro).
"There are not yet many European or American competitors. So more and more Japanese investors, in construction, logistics, home appliances, retail, motorbikes and advertising are showing interest to get themselves a dominant share of the market before anybody else."
Ms Park says there are areas where the government can get "quick hits" from investment such as spending on tourism, or in rural areas where most of the population still lives that will bring rapid improvements to the lives of ordinary people.
But even here, she warns, improved infrastructure is important.
"Even for tourism to get set up, you will need the foreign investment law to be more in shape in terms of use of land, and also logistics: how to get these tourists into the country, and then to where they want to go in Myanmar,'' Ms Park said.
''The country can grow a variety of fruit and vegetables, it has four seasons. But these are perishable goods. They have to be moved fast to be delivered to the consumers fresh.
"That requires infrastructure, road, rail and ports."