Nepal holds Everest 60th anniversary celebrations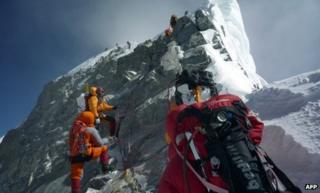 Celebrations are being held in Nepal to mark the 60th anniversary of the first climb to the summit of Mount Everest, the world's highest peak.
Events to mark the achievement by Edmund Hillary and Sherpa Tenzing Norgay include a high-altitude marathon and a clean-up at mountain's base camp.
In Kathmandu, one of the last surviving members of the 1953 expedition joined a colourful procession.
Since the first successful climb, more than 4,500 people have reached the top.
The BBC's Surendra Phuyal in Nepal says that amid the celebrations there are concerns about the growing number of climbers on Everest and the pollution they cause.
Nepalese officials are now considering placing a limit on the number of climbers allowed to climb the 8,850m (29,000 ft) peak.
Among those taking part in the Kathmandu celebrations is one of the last surviving members of the 1953 expedition, Kanchha Sherpa.
Also participating was Reinhold Messner, who has climbed all the world's mountains higher than 8,000m.
Sherpa Tenzing Norgay's son, Jamling Tenzing Norgay, told the BBC that his father would not have been happy about the impact of commercialisation and overcrowding, with up to 35 expeditions up the mountain a year.
But Mr Norgay said that his father would have been pleased with the way that the tourism and mountaineering industry was providing jobs for the Sherpa community.
May is traditionally one of the best times of the year to climb Everest, and this year has been one of the most crowded seasons. More than 500 people have scaled the mountain in recent weeks.
An 81-year-old Nepalese man has meanwhile abandoned his attempt to become the oldest person to climb the mountain.
Min Bahadur Sherchan turned back on Tuesday because late spring weather conditions were getting worse.
His failure means that 80-year-old Japanese climber Yuichiro Miura - who climbed Everest last week - remains the oldest person to scale it.