Elephants killed by speeding train in India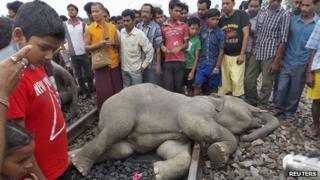 Three elephants have been killed by a train in the Indian state of West Bengal.
One more elephant is reported to be seriously injured.
The express train hit the animals near Marghat forest, 385 miles (620km) north of the state capital Calcutta, forest minister Hiten Barman said.
Activists have called for trains to lower their speed through such areas following the death of dozens of elephants in recent years.
"The train knocked down the elephants due to negligence of the driver," Mr Barman told AFP news agency.
But railway spokesman Jayant Sharma told AP news agency that the accident site had occurred outside the state's elephant corridor.
There had been no warning from the forest department about the movement of the elephants, he added.
"Train accidents of this sort have of late become a concern in the northern districts of West Bengal," Mr Barman said.
Official figures show at least 42 elephants had been killed in West Bengal since 2004, he added.
India is home to around 25,000 elephants. Their numbers are dwindling due to poaching and the destruction of their habitats by humans.