Major attack on Afghan capital 'thwarted'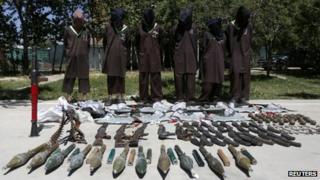 A potentially devastating attack on the Afghan capital has been foiled and a large amount of weapons recovered, the Afghan intelligence agency has said.
The National Directorate of Security said its forces carried out a raid on a militant hide-out in Kabul.
An insurgent of the Pakistan-based militant Haqqani network was killed and six others arrested, it said.
The network - which has links to al-Qaeda and the Taliban - has carried out a series of high-profile attacks.
Most have been against foreign troops in Afghanistan. The US has long described it as a major threat and last year designated it as a terrorist organisation.
Militant groups including the Taliban have regularly targeted Kabul.
On Friday security forces fought insurgents for hours in the centre of Kabul, after a major explosion shook the city. At least two people and a number of militants were killed.
Huge cache
The National Directorate of Security (NDS) said on Thursday that its forces carried out a raid on a garage in the Khair Khana area of Kabul.
It said that insurgents using it as a hide-out opened fire on security forces during the raid.
The NDS said that it recovered a cache of arms and ammunition from the hide-out, including five vests full of explosives - typically used by suicide attackers, a heavy machine gun, assault rifles and grenades.
NDS officials said the aim of the Haqqani network cell was to carry out sophisticated attacks on government buildings.
They said the attack may have been planned with the help of Pakistan's ISI spy agency because some Pakistani mobile cards were recovered from the hideout.
Pakistan has not responded to the allegations but has routinely denied any involvement in Afghan militancy.