Australia minister calls award for prank DJ 'bad taste'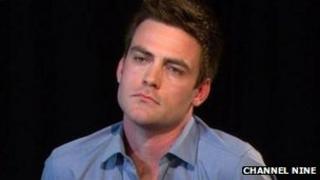 An Australian minister says an award given to one of the radio DJs behind a royal prank call linked to the death of a UK nurse is "in bad taste".
Michael Christian was given the "Next Top Jock" award by his employer.
Last year he and co-host Mel Greig made a prank call to the London hospital where the pregnant Duchess of Cambridge was being treated for morning sickness.
The nurse who answered the phone and believed the callers were the Queen and Prince Charles was later found dead.
Australian Communications Minister Stephen Conroy told local media he disagreed with the award.
''There were some very serious consequences of what was a prank,'' he said. ''And to be seen to be awarding people so soon after such an event I think is just in bad taste.''
Mel Greig remains off air in the wake of the incident, but Michael Christian returned to work in February, two months after the tragedy.
He now works in Melbourne, for the sister station of Sydney-based 2Day-FM - his employer at the time of the prank, both owned by Southern Cross Austereo.
Mr Christian said that winning the network's internal award - which selects from Southern Cross stations across the country and comes with a trip to Los Angeles - felt good.
"From the start I felt like I had something to prove to myself," he said in a statement. "That regardless of all that's happened in the past few months I'm still at the top of my game."
Both he and Ms Greig have apologised publicly for the prank.
Nurse Jacintha Saldanha put the Australian DJs through to another nurse at the King Edward VII's Hospital in Marylebone, who gave an update on the duchess's condition - an incident that drew widespread media coverage in the UK.
Mrs Saldanha, a 46-year-old wife and mother-of-two, was found hanged three days later. An inquest into her death has yet to be held.
In February, the UK's Crown Prosecution Service decided there was insufficient evidence to charge Mr Christian and Ms Greig with manslaughter over Mrs Saldanha's death.