My day: Cosmetic surgeon Thep Vejvisith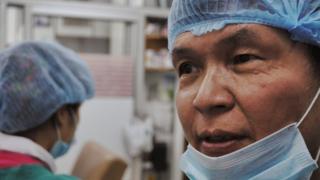 Dr Thep Vejvisith has run his cosmetic surgery practice in the Thai capital, Bangkok, for the past 25 years, performing nearly 60,000 breast operations. He work is particularly popular among bar girls and ladyboys.
I get up at 08:00 and start work in my surgery at 09:00.
Sometimes I stay overnight at the clinic because I do surgery late into the night and I have patients who can't go home.
Breakfast is very quick. It's always rice soup and just takes five minutes. I'm from a Thai-Chinese family and every Chinese has rice soup as breakfast.
Everyday starts with breast implant surgery. I do that from 09:00 until 15:00 or 16:00. During that time I do about 10 procedures.
Each one takes about half an hour, though if it's a bit more difficult, it may be 45 minutes or an hour.
'60,000 breast operations'
Lots of housewives come to the clinic after they've had children. Their breasts shrink so they like to have their previous breasts.
We also get an increasing number of young ladies coming here to have implants because of the influence of the internet and the mass media. They come here because they want bigger ones!
About 20% of the breast operations I do are on transsexuals or ladyboys as we call them here.
Mostly they come here for implants because it's cheap. I charge 45,000 baht ($1,400, £943).
When I add it up I've done nearly 60,000 breast operations in my life. I can't believe it.
Lots of women here make a lot of money after cosmetic surgery. They go to work in bars and become show women and make lots of money. Often their income increases 10 times or more.
They're more confident when they have the implants and when they're more confident they work better. About half of the women and ladyboys who come to my clinic work in tourism and in bars.
I usually have my lunch at about two o'clock. I have curried rice or fried rice. My staff go the vendors in the street outside and buy it for me.
They don't want me to waste a moment - they want me to do surgery all the time. If they could go to the toilet for me and pee, then I'd never have to pee!
In the afternoon I usually do more difficult and time-consuming surgeries like sex change, facelift or tummy tuck operations. You need about three hours for them.
Sex-change surgery
Compared to Western standards we're very cheap. For a sex change I charge 65,000 baht, about $2,200.
By law the patient has to go to the psychiatrist first to make sure they are transsexual. That annoys me as I've been doing this for 25 years so I know a transsexual when I see one. I even went to the administrative court to try and change the rule - but I failed.
I do a standard surgery for male to female sex change - the same as you'd get in Charing Cross Hospital in London. We remove all the genital contents from the penis and the scrotum leaving just the skin. Then we make a tunnel into the person and use the skin to make a new vagina.
The results are good - the ladyboys can then go and work in a massage parlour.
I don't think you'd know they were a transsexual even if you had sex with them, they're very clever these transsexuals, they're professionals.
I don't do female to male sex change because the results are not so good. But in the near future you could have a perfect female to male because they will remove a penis and transplant it on to a female.
I usually finish work at 20:00 or 21:00 every day. Sunday, Saturday even New Year's Day I'm at work unless I have a meeting or I'm in court.
Constant witness
I'm often a witness for medical malpractice cases.
I go and testify against doctors who have done bad work and many doctors and the medical council dislike me for that. But I don't mind. I just think the court has to get all the facts before they make a just decision.
I'm at court two or three times a month. I don't get paid for it - they just pay my taxi fare - about 300 baht.
Lots of ladyboys and Thai women have filler injections into their breasts to make them firmer - but that's the wrong way to do it. They should instead have surgery.
Sometimes we have to remove nearly the whole breast because they've been injected with poor quality fillers. They sometimes inject paraffin, olive oil, Johnson's baby oil or even worse.
I've made a lot of money through my work but I've invested it in the wrong way. I bought a lot of bank stock, but lost it in 1997 when our country went bankrupt (during the Asian financial crisis).
My wife is a nurse in a hospital near here. I've never allowed my wife to work at my clinic. She's happy at the hospital.
I've given my wife an eyebrow lift but nothing more. She's not asked for a breast implant and I already have a lot of big breasts here at work.
I have no mirrors here in the clinic even in the toilet. You know why? In the past when people came down after surgery, they'd look and say look at this scar or my nose is so swollen and they'd cry and never go home.
I always tried and to reassure them it's just an hour after surgery but after a few incidents I removed all the mirrors.
I've not had any cosmetic surgery myself - the only thing I've had done is knee surgery. So even myself I don't have a mirror to look at my face everyday. So I never get older because I never see my own face.
Dr Thep Vejvisith was talking to the BBC's Jonah Fisher in Bangkok.