Suspect held over murder of Pakistan prosecutor Chaudhry Zulfiqar Ali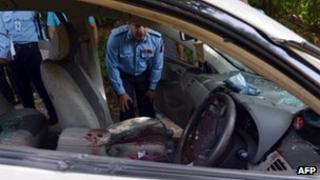 Police in Pakistan say they have arrested a man suspected of involvement in last month's murder of top prosecutor Chaudhry Zulfiqar Ali.
Mr Zulfiqar was shot dead in Islamabad on 3 May. He had been investigating the murder of former PM Benazir Bhutto.
Abdullah Omar was arrested in hospital where he was being treated for a bullet wound. Police say he was shot by Mr Zulfiqar's bodyguard during the attack.
Mr Omar has not made any comment on the allegations.
He is the son of a retired army colonel who was court martialled 10 years ago for an attempt on the life of then President Pervez Musharraf. The BBC has been unable to reach the family of Mr Omar for any further comment.
"Abdullah Omar was part of the team that ambushed Chaudhry Zulfiqar near his residence in Islamabad on 3 May," senior police officer, Jamil Hashmi, told BBC Urdu's Shahzad Malik.
"He [Omar] was hit by retaliatory fire from his [Chaudhry Zulfiqar's] bodyguard, and was whisked away from the scene in a car by his companions," he said.
Death threats
Mr Omar sustained a bullet wound to his spine, officials say, and his hospital room has been designated a "sub-jail" while he is undergoing treatment.
Mr Zulfiqar was the top public prosecutor in high profile cases in which Mr Musharraf and several members of some militant groups are implicated.
Mr Musharraf had been accused of failing to provide adequate security for Benazir Bhutto at the time of her death and Mr Zulfiqar initiated the move to arrest him for this after he returned to Pakistan to contest elections earlier this year.
He was also believed to be close to submitting final evidence against seven members of the Lashkar-e-Taiba militant group who are on trial for planning and executing the 2008 attacks in the Indian city of Mumbai in which 166 people were killed.
Mr Zulfiqar told the BBC in April that he had received death threats - mostly made over the telephone - related to the major cases he was pursuing in the courts.
Responsibility for his murder was not claimed by any group.