Police officer killed in Pakistan's Peshawar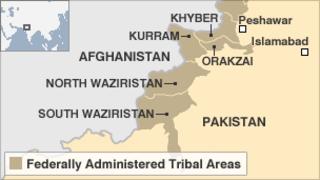 A senior police officer and his driver have been shot dead in the north-western Pakistani city of Peshawar, officials say.
Amanullah Khan, a deputy superintendent, was in charge of traffic police in the city, the Associated Press news agency reports.
No group has said it carried out the attack but the Pakistani Taliban have been responsible for similar assaults.
On Sunday they killed nine foreign tourists in Pakistan's far north.
The assault happened at the base camp of Nanga Parbat, the world's ninth highest mountain, in Gilgit-Baltistan.
A spokesman for the Tehrik-e-Taliban said the attack was in retaliation for the killing of its second-in-command, Waliur Rehman, who died in a suspected US drone strike in May.
The Taliban are based in Pakistan's semi-autonomous tribal region close to the border with Afghanistan and have launched frequent attacks against security personnel and others in the country's north-west.