Q&A: Mongolian presidential election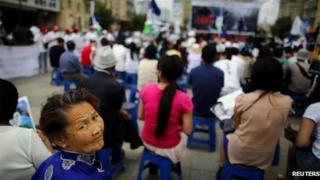 Mongolians go to the polls on 26 June to elect a president. While the election is unlikely to change the country's immediate course, it may decide how its vast mineral riches are used.
Since the collapse of the communist one-party system in the 1990s, Mongolia has become a fast-growing economy with a vibrant democracy. Much of this transformation was fuelled by efforts to exploit one of the world's largest untapped mineral reserves.
Who are the candidates?
Only candidates nominated by parliamentary parties or coalitions can run for president in Mongolia. Three candidates were put forward in 2013:
- Incumbent President Tsakhia Elbegdorj was fielded by the ruling Democratic Party.
- Former wrestler and three times MP Badmaanyambuu Bat-erdene was nominated by the main opposition Mongolian People's Party. It single-handedly ran the country for decades until the first multi-party elections in the 1990s.
- Health Minister Natsag Udval was nominated by the Mongolian People's Revolutionary Party, which split away from the Mongolian People's Party after it dropped the word "Revolutionary" from its name. She is the first-ever woman to run for president in Mongolia.
What is at stake?
Responsible mining and the fair distribution of the new-found wealth are among the key issues in the election dominated by "resource nationalism". Major multinational companies were invited by the government to help take advantage of the huge mineral reserves, leading to a boom which turned the country into what some call "Minegolia". However, critics say that this has bred inequality and corruption, and also damaged the environment.
Mongolia's biggest project ever, the giant Oyu Tolgoi copper mine, has also been at the centre of controversy. The government in Ulan Bator and mining giant Rio Tinto are locked in a dispute over how the mine should be run and how revenues from it should be spent. Plans to start copper exports from the mine were halted at the last minute less than a week before the election.
Oyu Tolgoi is slated to become one of the world's largest copper mines and eventually provide up to a third of the country's GDP.
What are the candidate's platforms?
Of the three candidates, President Elbegdorj is seen as the friendliest towards foreign investors. A veteran pro-democracy campaigner, Mr Elbegdorj was one of the leaders of the peaceful revolution that ended communist rule in 1990. He also has decades of experience at the highest state level. Tsakhia Elbegdorj served as prime minister twice before coming to power as president in 2009. He is now seeking a second four-year term of office which, under Mongolia's constitution, would be his last.
The incumbent president's election rivals accuse him of allowing foreign investors and corrupt officials to cash in on the mining bonanza without sharing enough with ordinary Mongolians.
Mr Bat-erdene, a critic of the Oyu Tolgoi project, is prominently linked to a law on protecting the environment from damage caused by mining. As an opposition candidate, Mr Bat-erdene says he is untainted by official corruption, putting an emphasis on his "clean hands" during campaigning. He is popular in rural areas and portrays himself as a defender of traditional values.
Ms Udval is most known for her staunch support for Nambar Enkhbayar, former president and current leader of the Mongolian People's Revolutionary Party. In August 2012, he was sent to jail for corruption - a charge dismissed by his supporters as politically motivated. Natsag Udval, who kicked off her election campaign by visiting Nambar Enkhbayar in hospital, is seen by many as a stand-in for the jailed ex-president.
Is there much excitement?
Campaigning has been calm and low-key. There are relatively few billboards in the streets, but campaigners have been holding rallies across Mongolia, handing out leaflets and party newspapers.
One reason why electioneering is subdued is the rather restricted powers wielded by Mongolia's presidency. The president can decide on security and foreign policy, as well as make important appointments, but parliament often gets the final say on other issues.
Another factor that puts a damper on campaigning is Mongolia's election law, which was passed in December 2012. Under the law, candidates' platforms cannot include issues deemed outside of the president's restricted remit.
The law also bans private TV stations from broadcasting more than an hour of election advertising per day. There has been confusion over whether the media are allowed to include election coverage in their news programmes at all.
Criminal liability for libel further restricts campaigning.
Are elections normally that calm in Mongolia?
In 2004, the contested outcome of parliamentary polls resulted in political deadlock which, in turn, triggered protests in the capital, Ulan Bator, in March-April next year. The demonstrators demanded the government's resignation and an end to poverty and corruption.
Following the next parliamentary polls in 2008, the ruling Mongolian People's Revolutionary Party (MPRP) was accused of vote-rigging. Riots ensued, in which five people were killed and hundreds injured.
Presidential elections, however, generate much less excitement in Mongolia.
Who is expected to win?
The incumbent president, Mr Elbegdorj, is widely expected to win. In a survey by the Sant Maral foundation, 54% of those polled said they would vote for him, followed by 37% who said they supported Mr Bat-erdene and 9% for Ms Udval.
If none of the candidates wins more than 50% of the vote, a runoff will be held on 10 July.
BBC Monitoring reports and analyses news from TV, radio, web and print media around the world. For more reports from BBC Monitoring, click here. You can follow BBC Monitoring on Twitter and Facebook.