Qantas probes Chinese prison headphones allegations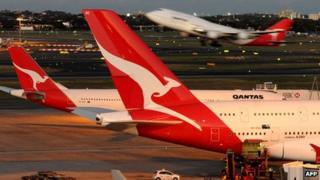 The Australian airline Qantas has launched an investigation into newspaper allegations that its in-flight disposable headphones were made by abused inmates in Chinese prisons.
The Australian Financial Review spoke to former inmates in a Chinese prison who claimed that prisoners were made to work long hours and were often beaten.
They said that they were paid only $1.30 (£0.85) a month.
The paper said the headphones were also made for British ­Airways and Emirates.
A company spokesman said that Qantas was "very concerned by these allegations" and had suspended its use of the supplier until an investigation was carried out.
British Airways said in a statement to the BBC that it was committed to ensuring the highest standards in its "procurement process" - and that only "credited factories" with "ethical codes of practice" were used to produce the headsets.
"Our supplier has made it abundantly clear that it has never used prisons in China to produce any BA headsets," a spokesman said.
An Emirates spokesman said that the airline was satisfied there was "no evidence of any unethical practices in the headset manufacturing process".
The Financial Review said inmates in Dongguan Prison, in the province of Guangdong, were regularly beaten and held in solitary confinement for failing to meet production targets.
It quoted a former New Zealand inmate of the jail as saying that it has "a very cruel environment" in which unmet production targets also resulted in prisoners being "taken outside and tasered".
"You wake up every morning wondering if you are going to survive the day," Danny Cancian, who was imprisoned in Dongguan for four years for manslaughter after a restaurant brawl.
Cancian told the newspaper that he had also made tiny inductors used in electrical appliances for local companies, including one which supplies Swedish giant Electrolux and Fortune 500 company Emerson.
­The Financial Review said that all the companies named denied any knowledge of the use of prison labour in their supply chain. It said that Electrolux and Emerson had also initiated investigations following questions submitted by the newspaper.
Its report cited a representative from the Dongguan City Joystar Electronic Company as confirming that the firm had used prison labour for big orders and made 300,000 sets of headphones for Qantas early last year.
They were made on behalf of Airphonics, the Vietnamese company used by Qantas as its main supplier.
"We have immediately suspended our current sourcing arrangements until we can investigate more fully," the Qantas statement said.
It added that the use of a third-party company in China to help fill orders "contradicts the verbal and written assurances we've had from this supplier that their supply chain process met our standards - including the ethical treatment of workers".