Pakistani government criticises nine BBC Urdu job cuts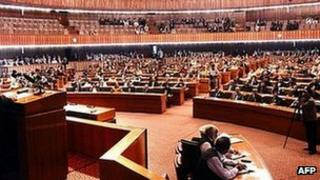 The Pakistani government has criticised a decision by the BBC Urdu service to terminate the jobs of nine senior reporters across the country.
Information minister Pervez Rasheed said that the matter would be raised with the "concerned authorities".
His statement in parliament came after journalists covering its proceedings walked out of the press gallery in protest at the BBC's decision.
A BBC spokesman said it was necessary for the Urdu service to make savings.
"In common with other parts of the BBC, the Urdu service has been tasked with making savings as part of the Comprehensive Spending Review (CSR)," the spokesman said,
"Out of a total staff of 69 people in Pakistan, we have announced 10 job cuts - one management post and nine editorial posts.
"We communicated the job losses to staff in March 2013 and have followed a fair selection process in accordance with BBC policies and Pakistani labour law guidelines."
The spokesman said that the BBC was continuing to devote "considerable resources to reporting" in Pakistan and has a staff of nearly 60 people including 30 journalists working across the country - five years ago there were fewer than 20 staff.
'Not tolerable'
Nine BBC Urdu service reporters were told they were to lose their jobs in April. Their contracts ceased on Wednesday.
Mr Rasheed was briefed on the issue by Aijaz Mahar, one of the BBC reporters affected.
"The entire journalist community in Pakistan is in sorrow, grief and anger over the action of the BBC management," the minister said in parliament.
He added that the sudden termination was "not tolerable under the Pakistani laws, but also under the laws of the country where the BBC is headquartered".
"I will make efforts to resolve this issue by contacting the concerned organisation [the BBC], and also the Pakistani departments that regulate [the electronic media] in the country," he said.
The affected reporters argue that they have not been offered redundancies in line with the BBC's redundancy policy and have been ignored when applying for alternative jobs.