Australia PM Rudd heads for Indonesia asylum talks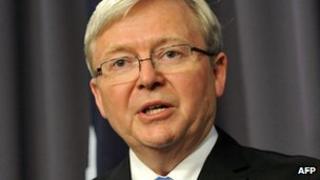 Australian Prime Minister Kevin Rudd is heading to Indonesia with talks on asylum policy set to top the agenda.
Mr Rudd, who ousted Julia Gillard as Labor Party leader last week, will meet his Indonesian counterpart Susilo Bambang Yudhoyono in Bogor.
Asylum is expected to be one of the key issues in Australia's general election, due later this year.
The number of people arriving by boat via Indonesia to seek asylum has increased sharply in recent months.
Most come from Iraq, Iran, Sri Lanka and Afghanistan. They make their way to Indonesia and from there head to Christmas Island, the closest part of Australian territory to Java.
Last year, the government reintroduced a controversial policy under which people arriving by boat in Australia are sent to camps in Nauru and Papua New Guinea for processing.
It said the move was needed to prevent people making the dangerous journey to Australia on overcrowded and rickety boats, several of which have sunk in recent years.
But the policy - identical to one which Mr Rudd dismantled in 2008 - has been strongly criticised by rights groups and has so far failed to deter new arrivals.
'No immediate change'
The Indonesia trip is Mr Rudd's first overseas visit since he became prime minister last week after defeating Ms Gillard - who ousted him in 2010 - in a party ballot.
An election had been scheduled for 14 September. Mr Rudd has indicated he will move the date but has not yet specified when polling will take place.
Opposition leader Tony Abbott, who leads Mr Rudd in the polls, says under him boats would be turned back to Indonesia when safe to do so.
Mr Rudd has said this risks damaging ties with Indonesia, an important ally and trading partner.
Both political parties have argued that some of the arrivals are economic migrants, not refugees - but this was rejected earlier this week by Australian Human Rights Commission President Gillian Triggs, who said 90% of asylum seekers were found to be genuine refugees.
Speaking as he set off for Indonesia, Mr Rudd said the meeting was about consolidating ties rather than reaching a deal on people-smuggling.
"It will be completely wrong and I think disrespectful to the Indonesian president to create any expectation of any immediate change at all," Mr Rudd said.
"Don't hold your breath for some sort of bright and breezy announcement out of Jakarta... that everything is all fixed and back to normal."
Indonesian Foreign Minister Marty Natalegawa, meanwhile, said on Wednesday that the issue of people-smuggling had to be handled on a multilateral basis.
"In the history of the issue, we have seen Australia considering numerous options, such as the so-called Pacific Solution, Malaysia Solution, Timor Leste Solution and so on," the Jakarta Post quoted him as saying.
"But Indonesia will always be adamant that this issue should not only be a burden for certain countries. This needs co-operation between the destination countries, the countries of origin and transit countries such as Indonesia," he said.
Mr Rudd arrives in Jakarta on Thursday afternoon and will hold formal talks with Mr Yudhoyono on Friday.
The issue of live cattle exports is also expected to come up at the meeting, which is part of an annual dialogue.
Australia halted shipments to Indonesia in 2011 after footage showed harsh treatment of animals. These have since been restored in reduced numbers, hitting Australia's cattle industry hard.
Mr Rudd has also called for increasing trade ties between the two nations. "Let's make it bigger. This is a huge emerging economy. It is next door to us," he said.