Pakistan jailbreak: '47 prisoners rearrested'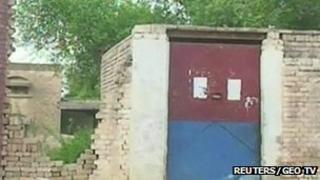 At least 47 out of 252 Taliban militants who escaped from a prison on Tuesday in north-west Pakistan have been rearrested, police say.
They said that most of the escapees handed themselves in and some were caught in a search operation.
Militants armed with automatic and other weapons blasted down the walls of the jail in the town of Dera Ismail Khan to free the prisoners.
A gun battle lasting several hours went on into the early hours of Tuesday.
At least 13 died, including six police.
Correspondents said it was a huge embarrassment for the authorities.
Officials said on Tuesday that at least 248 prisoners had escaped, but on Wednesday they said that in fact a total a total of 252 prisoners had got away.
Banned groups
Security sources quoted by Dawn newspaper said that "11 high-profile terrorists" were among the escapees.
Recriminations about who is to blame for the escape took place throughout Wednesday, with some critics accusing the intelligence agencies of not providing sufficient warning.
The authorities in Khyber-Pakhtunkhwa province say that four women prisoners were among those who handed themselves in.
Officials said a female police constable, abducted by the militants during the attack on the prison, had now reached safety.
The attack was similar to an assault on a prison in nearby Bannu in April last year, in which almost 400 prisoners were freed.
The prison in Dera Ismail Khan is a century old and is said not to have been designed for high-security inmates, but houses hundreds of Taliban fighters and militants from other banned groups.