China luxury cruise liner Henna stranded in South Korea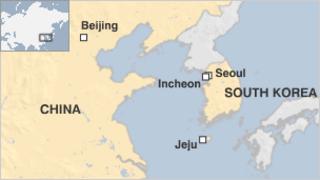 A ship described as China's first luxury cruise liner has been detained at a port on the South Korean island of Jeju because of a legal dispute.
A local court ordered the Henna not to leave after a request from a Chinese shipping company. It is not clear what the dispute centres on.
The ship's operator is providing free entertainment and food to more than 2,300 passengers and crew on board.
The Henna had its maiden voyage as a Chinese ship earlier this year.
It was previously operated by the British-American company Carnival Cruises Lines.
Its 1,659 passengers and 650 crew had been due to leave for Incheon from Jeju at 16:00 local time (05:00 GMT) on Friday, said HNA Tourism, the ship's Beijing-based Chinese tour operator.
The local South Korean court issued the order after shipping service company Jiangsu Shagang International applied for a seizure over the alleged legal dispute.
HNA Tourism said on Saturday that it was trying to work out a solution.
"Its [Jiangsu Shagang's] act has in fact restricted personal freedom of those onboard and severely infringed upon the rights of innocent passengers,'' Henna's operator read in a statement.