Australia carbon tax: Abbott prepares repeal bill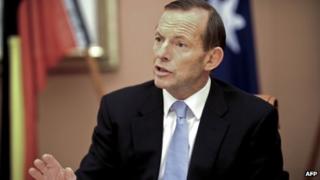 Australian Prime Minister Tony Abbott has published draft legislation to repeal the country's carbon tax.
The controversial tax, which was introduced under the previous Labor government, imposed a levy on the 300 biggest polluters.
Mr Abbott, who said the tax cost jobs and forced energy prices up, said the repeal bill would be the first reviewed under the new parliament.
Australia is the developed world's worst polluter per head of population.
Mr Abbott said that the draft bill was "designed to not only keep the government's commitments, but to do the right thing by the people of Australia".
"We are giving the Labor Party the chance to repent of its support for the carbon tax," he added.
In place of the tax, Mr Abbott's government intends to introduce a Direct Action plan, where farmers and industry will be paid to act to reduce emissions.
"We are confident [the measures] will bring about a 5% reduction in our emissions by 2020," he said. However, critics say the plan does not go far enough.
The government is running a consultation on the carbon tax draft repeal bill until 4 November.
Mr Abbott wants the bill passed by July 2014.
However, while his party commands a majority in Australia's lower house of parliament, it does not have control of the Senate. The repeal bill cannot be passed without Senate approval.
The new senators elected in September's polls, including those representing minor parties who may support the repeal, do not take their seats until July 2014.
The opposition Labor Party has said it would not support a repeal of the carbon tax.
"The coalition instead will throw the baby out with the bathwater, and leave Australia with no credible policy on climate change," opposition climate spokesman Mark Butler said.
The Greens have also pledged to fight Tony Abbott's plans. Their deputy leader, Adam Bandt, said the Greens would "protect the Australian people from the climate change criminality of Tony Abbott".