Philippines: Picking up the pieces after Typhoon Haiyan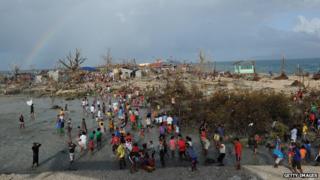 The town of Guiuan on the Pacific coast was the first to take the full force of Typhoon Haiyan which hit the Philippines earlier this month.
I'm sitting in the dark on Rosa's patio, swatting at mosquitoes and wondering if my mattress is going to get soaked by the rain tonight.
Rosa has been apologising profusely for the state of her home - as if she'd just inherited a rather shabby bed and breakfast.
There is plenty wrong with it. The roof is missing. So is the garden. And so are most of her neighbours' houses.
I'm in Guiuan. The unlucky spot where Yolanda - as the typhoon is known here - first met land.
After all the looting, there's a night-time curfew now.
A police van has just driven past, winding its way through the rubble, and bleating a rather tinny siren. In the dark I can hear the sounds of families cooking campfire dinners in the open, and the energetic burping of frogs.
Rosa is a cousin of the town's young mayor. She's staying in the ruins of his home, and has kindly let us camp here in the soggy, shredded remains of her old life.
Guiuan used to be a green and rather pretty town, with idyllic beaches and great surfing nearby.
There's an island just off the coast famous as the spot where the very first European landed in the Philippines. That was the Portuguese explorer Ferdinand Magellan, back in 1521.
In 1944, American troops arrived here during World War II - on their way north towards Japan.
They left a military runway outside town which is still in good shape.
I had woken to the sound of a huge plane coming in to land. After days of increasingly anxious isolation, Guiuan is finally getting help.
More big airlifts of aid are expected in the next few days.
I've already seen some straight-backed American soldiers in town, asking questions, and a group of bearded Belgian doctors working out where to set up a tented clinic.
The house opposite Rosa's has more or less vanished.
It's extraordinary what wind alone can achieve. Anything tall around here that's still standing - towers, street lamps, the odd tree - leans sharply to the west.
Next door there's a blue van perched upside down on a wall. For some reason a big fake Christmas tree remains standing in the driveway - its baubles more or less intact. A filthy flip flop is wedged in the upper branches.
A bit earlier a tall, stooped man on a bicycle stopped for a chat.
Segundo is 56, a sailor, who lives two streets away.
His job has taken him all over the world, and after 30 years at sea, he's familiar with storms.
When this one came, he hid with his wife and two children in their downstairs toilet. He told them to relax. What happens, happens.
But the noise. Segundo said it was like four 747s were taking off inside the toilet. The air pressure hurt their eyeballs. Their ears popped.
To be honest, I didn't expect us to make it, he said.
I've spent a lot of time here talking to families that weren't so lucky.
A brother and sister trapped - beneath a collapsed wall and the bodies of their own dead parents.
A young mother who'd just popped into town, reluctantly, for her father's birthday. The storm killed her father, and her only child.
With no phones here, she hasn't been able to call her husband in Singapore to tell him the news. I'm worried he won't want me any more now, she told me in a whisper. I have no meaning to my life.
But the truth here is that it could have been a lot worse for Guiuan. A paper chart on the wall in the mayor's crisis centre reveals that 87 people died and 23 are missing.
When you look at the wreckage - the devastation reminds me of what I saw after the 2004 Asian tsunami in Indonesia - it is astonishing that thousands more were not killed.
And the mood here is remarkable too. Not exactly cheerful but, by and large, strikingly optimistic.
Rosa has a theory about that. Her husband is also a sailor, abroad right now.
Their three young children have been playing in the ruins here all day, while she sees what she can salvage.
You see, we're poor in the Philippines, she says. That's why so many of us head oversees in search of work.
She has a brother in Dubai, another in New Zealand. We're used to not having much, she goes on. So we can cope with this.
Earlier, when I asked Segundo if he had any insurance, he laughed.
That's for rich people he smiled. He's due to retire in four years and must now head to Manila to see if he can get work on another cargo ship.
"Not easy at my age. But we survived this storm", he said, "so everything is fine. This is our second life."
How to listen to From Our Own Correspondent:
BBC Radio 4: Saturdays at 11:30 and some Thursdays at 11:00
Listen online or download the podcast.
BBC World Service: Short editions Monday-Friday - see World Service programme schedule.