Typhoon Haiyan: Tim Willcox answers your questions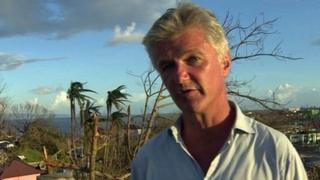 The BBC's Tim Willcox, in the Philippines reporting on the aftermath of Typhoon Haiyan, answered your questions in a live Twitter Q&A on Friday 15 November.
This is an edited version of the session.
Question from @mayoramos1: Great job, guys! Aside from Tacloban, how are the other ravaged areas in Visayas? Any relief goods distributed?
Tim answers: Correspondents travelling around the Visayas say aid has been patchy or nonexistent apart from say, local organisations.
Question from @Mahtab_Alikhani: What is the best description for people's feeling? Are they hopeful for the future?
Tim answers: People are remarkably resilient - one survivor said we are alive - we will go on.
Question from @KulganofCrydee: Should the BBC and other newscasters add to the problems by the influx of presenters and staff into the disaster area?
Tim answers: We bring in all our own supplies. We're here to tell the story.
Question from @shirbah: Why do initial government responses appear lacking?
Tim answers: They say the typhoon was so great - no country could have done any more.
Question from @OpEd_Letter: Hope the bodies are taken care of to prevent diseases.
Tim answers: The bodies that are accessible are being picked up and taken away. Many more are still covered by the rubble.
Question from @Metamorphisnt: What will be done to protect the infrastructure so the impact is less next time this happens?
Tim answers: That's a question for the future - they're focusing on the present. And they're no stranger to typhoons.
Question from @Tmckinnin: What is it like to report in Cebu and Phlines and Tacloban when the country is in dire states, and how hard is it?
Tim answers: Shocking, depressing, upsetting and also uplifting - when you see how people cope and come together in such tragedy.
Question from @JATF1_Fielding: How much notice do you get and how do prepare to go on location like this?
Tim answers: This time about five hours - we caught the first flight we could from London - and picked up a travel bag on the way to airport.
For more tweets from Tim Willcox you can follow his Twitter account.