Waiting for aid in battered Guiuan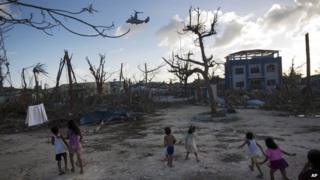 Stress and exhaustion twitched on the face of Sheen Gonzales, the 33-year-old mayor of what remains of the storm-battered town of Guiuan. It's been a rough week.
"We have no communication. Zero electricity. We have been cut off for days. We need food and temporary shelters," said Mr Gonzales, as he moved from one crisis meeting to another in the ruins of the local administration building.
Guiuan sits on an exposed peninsula jutting out into the Pacific Ocean. It is where Typhoon Yolanda - called Typhoon Haiyan internationally - first tasted land.
The wreckage is spectacular - from the palm trees, snapped like twigs, which litter the countryside, to the first small coastal villages reduced to piles of debris, and on into the rubble of Guiuan town itself.
"We are still waiting for relief food," said 22-year-old Maria Gagarin, sitting in the ruins of her father's small cottage a hundred yards from the beach.
She had come the day before the typhoon to bring her two-year-old son, Jake, to see his grandparents.
"He was so full of life. So naughty," she said. "But then the wind become more strong. Nowhere to go. My father get hit by a wave. Then baby [was] gone. He cannot hold him and then baby drowned," she cried.
Her husband is in Singapore and does not yet know what happened.
'Gives us hope'
For several days after the storm the region was completely cut off from the outside world, while a gathering international aid effort focused on more accessible towns like Tacloban.
"There was some looting. I decided to declare a state of emergency," said Mr Gonzalez. Several Chinese businesses had already been targeted by desperate crowds.
A night-time curfew remains in place. But on Thursday, despite evident frustrations as people waited in long queues for water and fuel, a sense of community spirit and law and order had quickly returned to Guiuan.
"It's remarkable," said Doctor Mike Vegara, the leader of one of the first outside medical teams to reach the town on Thursday morning.
"The administration here seems to be in control. Very organised. In fact people seem very calm now. There was some looting but I heard one pharmacy just opened its doors and said 'please take what you need'," he said, as his colleagues treated a few small wounds in the garden of a ruined clinic.
Suddenly, the throb of two big military aircraft filled the sky.
"They have to land here," said the mayor, squinting at the clouds. "Seeing those planes gives us hope."
And sure enough, two American Ospreys touched down at an old runway on the edge of town - a site the US built during an earlier operation in the area: World War II.
They brought no aid, but Philippine and American emergency officials made a quick assessment of needs and promised to return with supplies the following day.