Afghans killed in Zabul 'had helped police'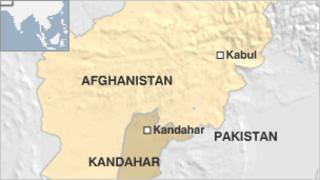 Six men whose bodies were found over the weekend after being kidnapped in southern Afghanistan had helped with police work, local officials say.
The corpses of the men kidnapped earlier in the week were found on the border of Kandahar and Zabul provinces late on Saturday night.
Although they were not policemen, they had been employed by local police for certain duties a Zabul official said.
But officials in Kandahar said they believed the men were simply residents.
It is unclear who killed the men. Police are still investigating.
Taliban militants frequently target security forces and those allied with them.
Kandahar police chief spokesman Fazl Rahman Durrani told the BBC that the men had been kidnapped from Arghestan district and that they had been hanged.