Pakistan bomb: Seven Taliban killed in North Waziristan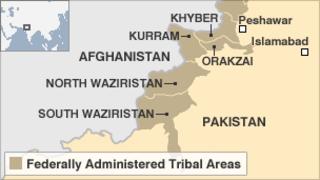 At least seven Pakistani Taliban militants have been killed in a suicide attack in a tribal area near the Afghan border, intelligence officials say.
A local Taliban commander, Qari Saifuddin, was among those reported killed in the car bombing in North Waziristan, a militant stronghold.
It is unclear who was behind the attack near the town of Mir Ali.
Correspondents say the blast comes amid rifts in the Pakistani Taliban and other militant groups in the area.
Last month Pakistan Taliban leader Hakimullah Mehsud was killed in a US drone strike in North Waziristan.
Qari Saifuddin was travelling in a double-cabin pick-up truck with seven others when an explosives-laden Toyota station wagon rammed into it, reports said.
They were taken to a hospital in Mir Ali where he and at least six of his companions were pronounced dead.
Qari Saifuddin was named by officials as the mastermind of the high-profile abduction of at least 80 students and staff from Razmak Cadet College in North Waziristan in June 2009.
The hostages were freed a day later, reportedly after negotiations.