Bin Laden doctor Shakil Afridi charged with murder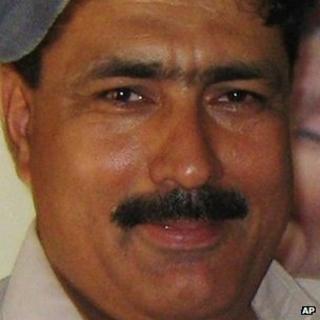 The Pakistani doctor who helped the United States track down Osama bin Laden has been charged with murder.
The latest charges relate to the death of a patient eight years ago at a hospital in the Khyber Agency region.
Shakil Afridi's lawyer, Samiullah Afridi, said officials had informed him about the murder charge on Friday morning, Reuters reports.
The move comes two months after a court overturned a previous sentence given to Dr Afridi.
Reuters quoted an official as saying that a woman had come forward blaming Dr Afridi for the death of her son at a clinic in 2005.
"She stated that he operated on her son at a hospital in Khyber Agency even though he was not a surgeon, and that caused [her son's] death," the official said.
Dr Afridi had been given a 33-year jail sentence by a court in the Khyber tribal agency for alleged links to a banned militant group.
But in August a court overturned the ruling, citing procedural errors and ordered a retrial.
At the time, the BBC's Ilyas Khan warned that there was no guarantee that a similar verdict would not be reached in a retrial.
Osama Bin Laden was killed by US forces in Abbottabad in May 2011.
His killing soured US-Pakistani relations as Pakistan saw the operation as a violation of its sovereignty.