Australia water-ski champion Sarah Teelow dies after fall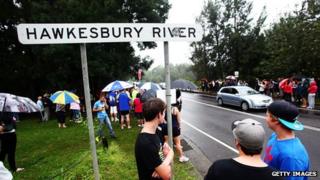 World champion water-skier Sarah Teelow has died following a fall during a high-speed race on Australia's Hawkesbury River.
The 21-year-old came off her skis shortly after the start of the Bridge to Bridge Water Ski Classic near Sydney on Sunday.
She suffered serious spinal and head injuries and later died in hospital.
Teelow won the Formula 2 category at the World Waterski Racing Championships in Spain in September.
Ms Teelow had been placed on life support but died on Monday evening.
Ski Racing Australia described her as "one of the sport's most accomplished young competitors".
"The ski racing fraternity is deeply saddened by Sarah's passing and extends its condolences to her family," it said in a statement.
The organisation said it was "co-operating with police and maritime authorities in their investigations".
The conditions at the time of the accident were described as "good" and that "the sea was slight".
The boat's driver said Ms Teelow fell after hitting the wake from another boat, the Australian Broadcasting Corporation (ABC) reported.
'Outstanding'
Her friend Elizabeth Brett described events as "tragic".
"Everyone that met her knew her to be bright and bubbly, intelligent as well as an incredible athlete."
Ms Teelow was a human movement student at the University of Technology in Sydney, and a member of the elite athlete programme.
UTS vice-chancellor Prof Shirley Alexander said "everyone is absolutely devastated".
"We are so proud of Sarah, she was an outstanding student," Prof Alexander told ABC.
Teelow, from Wellington, was the daughter of two-time world water-ski champion Tania Teelow.
Skiers can reach speeds of more than 130km/h (80 mph) in the 112km (70 miles) Bridge to Bridge course.
Local media say New South Wales police are investigating how she came off her skis.