Kidnapped Pakistan polio workers 'are released'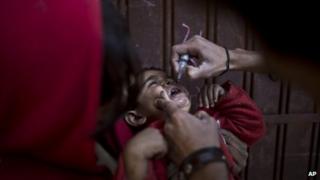 A group of at least seven polio workers who were kidnapped last week in north-western Pakistan while carrying out a children's vaccination campaign have been freed, local officials say.
The workers were seized by Islamist militants last Thursday from a school in the Khyber tribal agency.
The group was reported to have included four teachers.
Tribal elders in the Khyber region reportedly secured the releases after negotiating with suspected militants.
'Sterilise Muslims'
There are conflicting reports as to the number of workers who have freed - the Reuters news agency said it was as many as 11 people.
A tribal elder, speaking on condition of anonymity, was reported by Reuters as saying the militants freed the teachers on condition the government stop sending polio teams to the Bara area.
Senior Khyber administration official Nasir Khan told AFP that the released workers would reach Peshawar on Wednesday.
Polio vaccination workers are often targeted for kidnap by militants, accused of being Western spies or part of a plot to sterilise Muslims.
Polio remains endemic in Pakistan.
This is partly due to militant resistance to polio vaccination campaigns, say correspondents.
A senior government official in Bara told the AFP news agency last week that the group behind the kidnappings was Lashkar-e-Islam.