China, US and Britain: Tact needed as global power shifts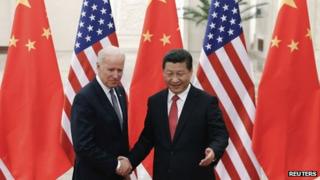 This week has confirmed two of China's current beliefs: that the United States is clumsy, and Britain is two-faced.
The American Vice-President, Joe Biden, who was in Beijing to do some delicate fence-mending between China and Japan, also made some on-camera, off-the-cuff remarks to a crowd of Chinese people queuing for visas at the US embassy.
"Children in America are rewarded - not punished - for challenging the status quo," he told them; this in a country which was traumatised for years by the student demonstrations of May and June 1989 in Tiananmen Square, and the ensuing massacre.
He added that people needed "to challenge the government, challenge religious leaders", not, of course that there are too many of those in a country which is nominally atheistic.
By all accounts Mr Biden did a much better job behind closed doors, talking to China's new President, Xi Jinping, for five hours.
But his public remarks, at such a delicate time, reinforced the belief here that the US is sometimes too unguarded, and too instinctively hostile to China, to be a reliable long-term partner - in politics, if not in trade.
Long game
And the other visitor here this week? Prime Minister David Cameron reinforced the Chinese belief that, though pleasant and cultivated, Britain is shrunken in status and distinctly two-faced.
After their meeting on Monday, the Chinese premier, Li Leqiang, stood next to Mr Cameron and read out an agreed statement which said, among much else, that Britain respected China's sovereignty, territorial integrity and core interests.
That is China's habitual way of referring to Tibet. But China certainly would not complain if it was also read as a reference to the disputed islands of the East and South China Seas.
Only a short time earlier, a senior British military officer was reported in the Beijing press as telling the Japanese that Britain understood their concern about China's moves over the crisis in the islands. That is certainly Britain's established position.
As Professor Tao Xie, an outspoken and well-informed commentator in Beijing, says: "China regards these things as a reason to accuse Britain of being hypocritical."
Still, David Cameron's visit to China was not the humiliation that some British commentators have maintained. On the contrary, British and Chinese officials both thought it was a success - despite a few awkward moments.
A well-placed figure within the Chinese system made it clear to me privately that China would like to think of Britain, together with France and Germany, as a growing counterweight to the United States. The Chinese, as ever, are playing the long game.
All the same, as China grows richer and more important, so it becomes more nationalistic.
The British press paid a lot of attention to the editorial remarks in the Beijing Global Times that Britain was "just an old European country apt for travel and study".
What went largely unreported was that later editions of the paper carried a new and presumably hastily-written passage which said soothingly that, although China and the UK had different views about democracy and freedom, "this should neither dominate bilateral ties nor overshadow the momentum for co-operation".
The Global Times is a tabloid offshoot of the People's Daily, which is owned by the Chinese Communist Party. Sometimes it can be reminiscent of the British Sun newspaper in the days of Margaret Thatcher: it supports the government so strongly that it occasionally goes too far.
Flick of the whip
The Chinese leadership knows that Britain's position in the world has shrunk, and that the United States, though still a superpower, is in the process of shrinking.
For that reason China understands that as a rising power China must be careful in dealing with them both.
Xi Jinping came to power promising that "China will rise peacefully". His catchphrase, constantly echoed by ministers and officials here, is that it is essential to seek a "win-win" outcome to the various problems China and the rest of the world face.
President Xi's officials say he wants to write a new type of history: one that minimises friction.
He realises, of course, that the Americans are still the world's leading power and will remain so for long years to come; but he seems to want to encourage alternative areas of influence as well.
So he did his best to see that David Cameron went away from China feeling pleased with what had been achieved, though Mr Xi must surely have felt a quiet satisfaction that Britain had been given a deft flick of the whip at the same time.
And Joe Biden? He seems to have helped to calm the situation over the islands a little, which is a real achievement.
But suggesting publicly that Chinese people should challenge their government, when that is probably the very thing President Xi Jinping fears the most, was the reverse of tactful.
And this is a time when tact is particularly called for.