Biden urges Seoul-Tokyo co-operation amid Asia tensions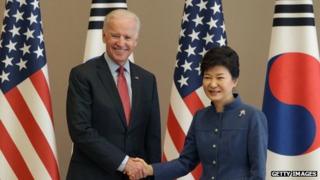 US Vice-President Joe Biden has urged Japan and South Korea to "improve their relations and co-operation".
Mr Biden was in Seoul on the third leg of an Asian tour dominated by tensions over China's newly-declared air defence zone.
China's zone covers disputed islands controlled by Japan and an area claimed by Seoul.
Mr Biden said on Thursday China's move had "caused significant apprehension in the region."
Mr Biden discussed the zone with South Korean leader Park Geun-hye. The issue of North Korea and ways to restart long-stalled nuclear disarmament talks were also high on the agenda.
As the meeting with Ms Park began, Mr Biden emphasised the US commitment to a strategic shift to the region.
"I want to make one thing absolutely clear: President Obama's decision to rebalance to the Pacific basin is not in question," he said. "The United States never says anything it does not do."
In a speech later, Mr Biden said: "The entire region will be more stable and more secure if the leading democracies - Japan, South Korea and the US - are able to improve their relations and co-operation with one another."
Japan occupied Korea before and during World War II, and tensions remain between Tokyo and Seoul that have recently been exacerbated by rows over a separate disputed island and lingering historical issues.
'Do not accept'
Mr Biden arrived in Seoul on Thursday from Beijing, where he held what he described as "very direct" talks with President Xi Jinping on the new air defence identification zone (ADIZ).
The White House has described the establishment of the ADIZ as "unacceptable", but has urged Beijing not to implement it - rather than calling for it to roll back its move.
"We, the United States, do not recognise and we do not accept it, and will not change the way the United States conducts military operations in the region," White House spokesman Jay Carney said on Thursday.
The zone covers East China Sea islands that Japan, China and Taiwan claim. The islands, which are controlled by Japan, are called Senkaku in Japan and Diaoyu in China.
The ADIZ also covers a submerged rock that South Korea says forms part of its territory. China wants all aircraft flying in the ADIZ to follow certain rules, including filing flight plans.
South Korean reports have suggested that Seoul is considering expanding its own ADIZ in response, a move that could hit efforts to reduce tensions.
Concerns over Pyongyang's nuclear programme are also rumbling. On Thursday a US-based think-tank said satellite images showed increased activity at North Korea's once-mothballed Yongbyon nuclear reactor.
Plutonium for North Korea's nuclear tests is thought to have come from the reactor, which was shut down as part of an aid-for-disarmament deal but reactivated as North Korea's ties with regional neighbours and the US deteriorated.
Mr Biden reiterated the US's opposition to North Korea's nuclear programme. "Let there be no doubt, the United States is committed to do what it takes to defend our allies and ourselves against North Korean aggression. Period," he said.
On North Korea, experts say the two are likely to have discussed recent - unconfirmed - reports from South Korea's spy agency that Kim Jong-un's uncle Chang Song-taek - a powerful leadership figure - has fallen from grace.
Mr Chang, who is married to late North Korean leader Kim Jong-il's sister, had been seen by some observers as a power behind the throne figure in the administration of his young nephew, Kim Jong-un.
On Saturday, Mr Biden will visit the demilitarised zone which divides the two Koreas.