China university 'sacks scholar for political criticism'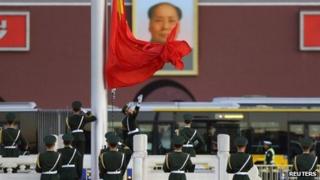 A law professor in China says he has been sacked after refusing to apologise for writing articles criticising the government.
Zhang Xuehong said he was dismissed by the East China University of Political Science and Law in Shanghai on Monday.
He says university officials had asked him to retract views expressed in articles that raised questions about top leaders and one-party rule.
The university has not officially commented on the matter.
In June Mr Zhang published a piece advocating constitutional rule and criticising the leadership of the Communist Party, including President Xi Jinping.
Another piece, New Common Sense, questions the legality of one-party rule.
He said the university suspended him from teaching responsibilities in August. He added that university officials asked him last month if he was ready to apologise for his actions.
"I said I did nothing wrong, so there's nothing to admit to," he told Reuters news agency.
Mr Zhang, who is also a human rights lawyer, said he would file a lawsuit once he received written notice from the university. He had only been notified verbally.
His dismissal follows the expulsion of outspoken economist and free speech advocate Xia Yeliang in October from Peking University.
Mr Xia helped draft the Charter 08 manifesto, which calls for political change in China. He is a friend of jailed 2010 Nobel Peace laureate Liu Xiaobo.
Mr Xia's dismissal came as Chinese leaders stepped up control of the media and internet, arresting bloggers and activists.