Purge: Unprecedented North Korean media coverage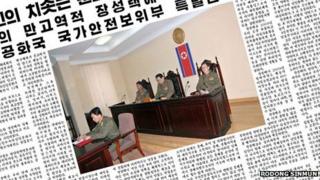 The intense North Korean media publicity given to the arrest, trial and subsequent execution of leader Kim Jong-un's uncle, Chang Song-thaek, is virtually unprecedented. It can be seen as a public challenge to people to show their loyalty to the ruling Korean Workers Party.
Official state news agency KCNA published a lengthy report on Mr Chang's trial on 13 December, which was subsequently read out by one of Korean Central Television's news anchors in an 18-minute address to camera, shown three times during the day's programming.
Entitled "Explosion of Soaring Rage of Millions of Soldiers and People, Traitor for All Ages Firmly Punished", the near 3,000-word statement pulled no punches in accusing Chang of organising a coup, and offered clues as to what may follow in North Korea in subsequent months.
Official state reporting of Mr Chang's arrest and trial is remarkable in its candid nature, and sends a message to party cadres, the armed forces and the population at large of the price of disloyalty to the ruling party.
The removal and replacement of officials is usually carried out behind closed doors, with the outside world usually only being made aware of significant appointments when a new name appears in a news report.
Images of Mr Chang's arrest and trial shown on state media, in which he is led out of a public meeting and subsequently shown bound in a court room, are virtually without precedent.
In addition to TV, radio and news agency reports, the official newspaper of the central committee of the Workers' Party of Korea carries an editorial denouncing Chang Song-thaek and his "group".
"What was most dangerous in the group's anti-party and counter-revolutionary factional acts was that it tried to undermine the party's monolithic leadership system, life and soul of the army and people of the DPRK, and break the single-minded unity," the Rodong Sinmun editorial says, quoted by KCNA.
Top officials are usually replaced without fanfare, let alone intense news coverage in the North Korean state media.
The replacement of armed forces chief Kim Kyok-sik with hitherto unknown army general Ri Yong-gil in October was only noted when his name appeared in a list of officials in an unconnected news report. South Korea's Ministry of Unification estimates that Kim Jong-un has replaced 44% of the country's top 218 officials since coming to power.
Fresh purge expected
Chang Song-thaek has also been accused of creating a faction around himself with the aim of destabilising the Korean economy so that he might seize power along with "discontented elements". KCNA said that he had extended "tentacles" within ministries and national institutions with the aim of undermining their operations.
The language used by state media leads Korea watchers to expect a wide-ranging purge to ensure loyalty to Kim Jong-un.
The whereabouts of Chang's widow Kim Kyung-hee may shed some light on how deep the expected purge will run, and who might be the driving force behind it.
The daughter of the nation's founder Kim il-sung and the sister of Kim Jong-il, she has frequently appeared in official photographs wearing military uniform, and is considered one of the most powerful people within the Pyongyang elite.
With Chang convicted of "thrice-cursed treachery", Kim Kyung-hee's status becomes doubly important. Crimes against the state implicate immediate family for three generations, but reports that husband and wife were estranged before his death may be enough of a separation to spare her. The couple have no living children.
Tuesday 17 December marks the second anniversary of her brother Kim Jong-il's death, and her appearance or absence at any commemoration reported by state media will be notable, as will that of any senior official.
BBC Monitoring reports and analyses news from TV, radio, web and print media around the world. For more reports from BBC Monitoring, click here. You can follow BBC Monitoring on Twitter and Facebook.